A clay trap shooting range isn't the usual place you'd expect a 16-year-old schoolgirl to be in her comfort zone.
But Canberra trap shooter Tanya Skinner believes Majura Park Gun Club's upgraded clay target range gives her the best chance of following the footsteps of 2004 Olympic champion Suzy Balogh.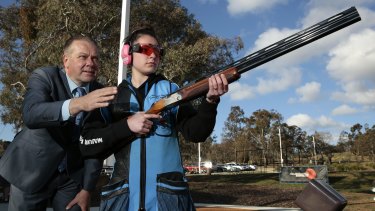 Former Olympic gold medallist Russell Mark branded the facility "world class", and believes Australia's hopes at Rio next year could be enhanced if the country's best shooters were all based in Canberra.
About $175,000 has been injected into the facility, derived from ACT government and ACT Sports Shooters Association Australia funding.
"This used to be the range the [Australian] institute of sport used when I first made the national squad in 1985," Mark said at Monday's unveiling.
"There is some merit going back to that program. We had a lot of success out of it, it's whether the government would justify having it back at the institute of sport, because it's expensive.
"It's world class, I've been to every decent range in the world and this is Olympic standard."
Canberra College student Skinner was crowned Australia's female double barrel champion in March, and won the Olympic trap event at last weekend's NSW International Sports Shooting Federation titles in Newcastle.
"It [upgraded facility] has definitely helped and I've seen the improvements already," Skinner said.
"I went to an event when I was ten my dad was shooting at, and realised I wanted to take it up.
"I'm met Suzy and she's taught me how to hang in there and stick with it. She told me stories of how difficult it was for here to make it, and persistence is something she taught me."
Mark, who won double trap Olympic gold in 1996, retired a year ago and now coaches around the world.
He has been a vocal critic of the Australian Sports Commission's Winning Edge program, where more funds are given to the top few prospects in each sport.
"To me that's fraught with danger because it cuts down the amount of people you're exposing to top level competition," he said.
"It's totally against how people like myself made it to the top. Winning Edge is going to have its day in Rio, we're going to see if it works or not.
"I was the beneficiary of it the last few years [of my career], and when I retired I could see there's no one behind me.
"It's a lonely place at the top when there's no one pushing you.
"I might be wrong and Rio may produce more medals than we've seen before, but I'm willing to put a bet on it won't."
Jon Tuxworth is a sports reporter at The Canberra Times.