The pressure of being an Australian Roller is higher than ever before, but Canberra's Tim Markcrow is confident his Paralympic dream will come true in Brazil.
The Australian wheelchair basketball team is a force to be reckoned with on the international arena, having won the 2014 and 2010 world championships, a Paralympic gold medal in Beijing in 2008, as well as silver in London in 2012 and Athens in 2004.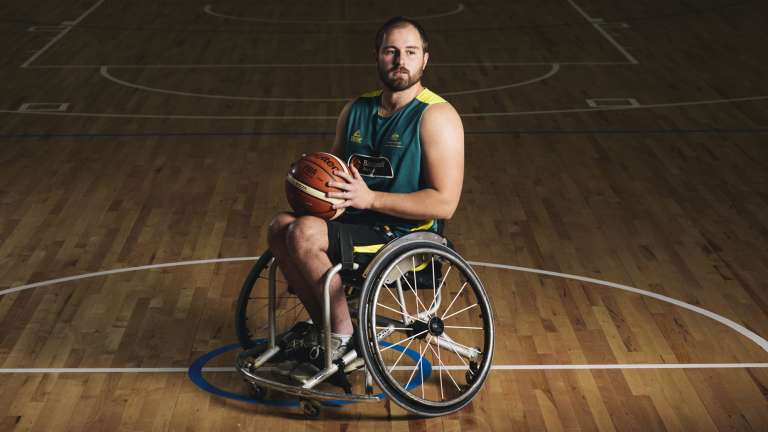 Markcrow has been dreaming of competing at the Paralympics since he began his rehabilitation from a motorcycle accident in 2009, which left him paralysed from the waist down.
He took up the sport as way to keep mentally and physically fit.
The 24-year-old from Murrumbateman was part of an 18-man squad who trained at the Australian Institute of Sport in preparation for the Rollers' UK tour in July, leading into the Paralympic Games in Rio de Janeiro, which starts on September 7.
The squad is packed with experience, headlined by Brad Ness, Tristan Knowles and Shaun Norris, who have been pivotal in the Rollers' Paralympic and world championship success for more than 10 years.
Only 14 athletes will make the UK tour, which will be cut to 12 for Rio, and while Markcrow is the youngster of the team he's confident he'll be on the plane.
"We're still waiting for the final selections to be made but for me just being here with the guys is a huge achievement in itself," Markcrow said.
"Having guys like Brad, Tristan and Shaun around is fantastic. Their heads are bigger than their biceps – they're full of knowledge.
"They're really good blokes on and off the court and they can teach you a lot about being a person and being a great basketballer as well."
Norris sung Markcrow's praises and said there was no point in worrying about selection for the Paralympics.
"To begin with, you have to be pretty special to get to this level, as long as you have faith in yourself and that what you're doing is right," Norris said.
Head coach Ben Ettridge is adamant the future of the Rollers is bright and emphasises the importance of having young athletes such as Markcrow involved in the Australian set-up and learning from the experienced players in the group.
"It's important that they know they are an important part of the squad. This side isn't based around one or two individuals, there are 12 guys required to get it done, so there is always an opportunity," Ettridge said.
"This group is really good about their legacy and what they want to leave behind. Our senior players are open books, they want to leave this program and be sitting back in 2020 and 2024 watching us compete for gold medals again.
"So they do everything in their power to keep those young boys coming through and there is a great respect in that because the guys are willing to share their knowledge and help them get to next level.
"It's not about egos and individuals, it's about what everyone can do to make this team better."
The Roller's will partake in the Continental Cup in Leicester from July 2, where they will take on heavyweights Canada, Netherlands, Japan and Great Britain.
Their first match of the Paralympics is against the Netherlands at The Carioca Arena.