The Queanbeyan Kangaroos will rely heavily on their three English imports as they take on the West Belconnen Warriors in the sudden death semi-final at Seiffert Oval on Saturday.
Jack Miller and Dan Maskill hale from Castleford, while teammate Ben Shulver is from Leeds. All three have been instrumental in the team's run to the finals.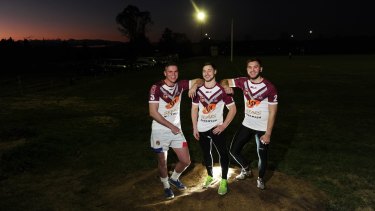 Miller has made the halfback role his own, showing great poise and confidence and producing a number of chances and quality scoring opportunities for his side.
He has shown a fantastic kicking game - which many believe to be the best in the competition - and he is the second highest points scorer in the competition.
"The season has been really good so far, everything has gone to plan. Hopefully I can carry on and keep improving," Miller said.
Maskill has played in a utility role this season, deputising as either a hooker or lock for the Queanbeyan side.
Shulver is a front rower - the giant making an impact every week off the bench.
When asked about moving to Australia, Shulver said it had not been what he expected.
"They said move to Australia, it's a nicer climate, then we come over here and it's minus temperatures, it was snowing yesterday," he joked. "But it's been great because we really love the lifestyle out here, the Roos boys have been great too."
The Roos face a tough task this week as they play West Belconnen in the knockout final.
"It's a different ball game in finals to what you normally play week in, week out so we're going to have to step up and be ready, especially at Seiffert," Miller said.
Shulver believes the Kangaroos will have to muscle up, especially up front, if they are to get the better of the Warriors.
"They're a physical side, so they're going to try and dominate us in the middle, but I reckon we'll be able to tough it out and get over the top eventually."
Queanbeyan's backline and finishers will be the difference in the match, Maskill said.
"They're a big set, but we've got the cattle to match it with them up-front I think. Our backs have been in excellent form and if they can keep going the way they're going there's no reason we can't win the game on Saturday."
SATURDAY
Canberra Raiders Cup semi-final: Queanbeyan Kangaroos v West Belconnen Warriors at Seiffert Oval, 3pm.