The good thing for jockey Jason Benbow about his trackwork fall at Caulfield in March is he can't remember the aftermath.
When Damien Oliver got to Benbow on the track after the fall he told him he couldn't feel his legs.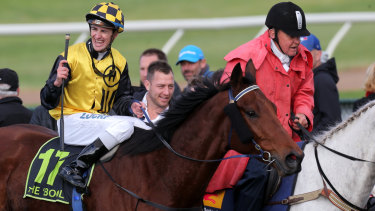 He can't remember saying it.
"That's the good thing about concussion," Benbow said. "I don't remember that happening. I didn't remember saying that until I was told about it. Apparently I got feeling back 15 minutes later.
"The first thing I remember was in hospital and they told me I had a broken back and would be out for a while."
Benbow has been back riding for two months and Noumea, which comes to Rosehill on Saturday, has given him his biggest success since then in the Coleraine Cup in September.
He has ridden six winners and follows the six-year-old to Sydney as he steps to 2400 metres, a trip that should suit the son of Cape Cross.
Benbow has had his share of success, winning a group 1 Emirates Stakes on Sky Cuddle and scoring a group 3 win on I Am Invincible as the biggest victories of his career.
He has made his career in Victoria and  admitted it was unusual for him to have his first city ride back at Rosehill.
"It's been two years since I rode in Sydney and 2008 since I had a winner there on Chasm," Benbow said. "When you are coming back you take the opportunities that come along and this horse is going well and we are trying to get him up in the ratings so he can run in better races in the autumn.
"I think he is a horse that is worth following.
"He is a chance to ride a city winner, which when you are coming back is so important. It just let's everyone know you are around."
Benbow said the fall had allowed him to reassess his career and he sees it as a second chance. He just needs to reestablish himself.
"It probably came at a good point [the fall], I needed a break from racing," he said. "I was able to sit back and look back on my career and look what I want to achieve and it is a bit like a second chance.
"I have come back with the right attitude and I just need to work my way back to riding in the city and the better races."
Noumea may be a horse that can take him a long way, with strong country form during the carnival in Victoria.
After Coleraine, he was a gutsy third behind Sixties Groove in the Moe Cup before not having the best of luck at Moonee Valley and then being fourth in the Kyneton Cup, when he hit the line hard.
"This bloke is a good horse to follow up there and Eric [Musgrove] had him in the Sandown Cup but the jump to two miles was probably too big, so we are coming [to Sydney] for the 2400m," Benbow said.
"The run at Kyneton was really good and I think he is looking for the extra trip now."
He has been put into markets on the $8 line in a race where Chris Waller has the favourite, progressive stayer Solo Mission at $2.40.
Racing writer for The Sydney Morning Herald