Canberra Greyhounds still winning despite ACT government ban
They might not be able to race on their home track, but that hasn't stopped Canberra's greyhound trainers from winning on other people's.
Over the past couple of months, the band of 12 remaining Canberra trainers have had 23 winners across NSW - including on the biggest stage at Sydney's Wentworth Park.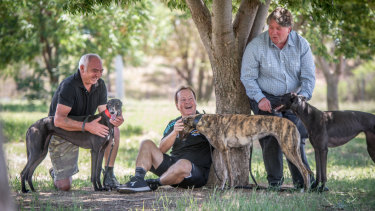 The ACT government banned greyhound racing at the end of April last year, but the Canberra Greyhound club found a new home at Goulburn where they host races every Thursday - although this week's meet was cancelled due to the heat.
But they've continued to train at their Symonston track on a weekly basis, with 12 trainers still remaining from the 33 they had two years ago.
Domestic Animal Services have given them the green light to continue exercising their dogs - they just can't hold official races.
The Canberra trainers have been wracking up winners in the past two months, including the $5000 Les Thompson Memorial Maiden at Nowra last week.
Braidwood trainer Craig Sheridan, who also does some training at Canberra, has Book Of Luck running in the $40,000 Summer Distance Plate at Wentworth Park on Saturday.
"The local trainers have been winning races everywhere. We've still got our training facility out there and we're still using it," Canberra Greyhound chairman Alan Tutt said.
"I think everyone thinks we've just disappeared. The only thing that's really stopped at Canberra is one thing: [racing].
"We've lost four people that have become unemployed because of the ban, plus 26-35 casuals.
"Our lure still goes around on a trial session, which is an exercising run and we still exercise our animals at the track. And we're using the facilities for community use."
Tutt said Tabcorp had guaranteed Canberra's prized Sunday-night timeslot for the next five years.
He expected Goulburn to get lights installed sometime this year, which would mean their weekly meet would then return to Sundays.
There's a feasibility study into building a track at the Queanbeyan Racing Club under way, but Tutt said that was a last resort with overturning the ACT ban the priority.
They have a case which will resume in the Federal Court before March 15 where they will argue the ACT government's decision was unconstitutional.
Canberra Greyhounds have 8½ years remaining on their 50-year lease.
"We're still using the facilities and we're not going to let them just come and take it off us," Tutt said.
"We're still paying our rates and paying our levies, but we've been denied to race and bring an income in. Our income's through Canberra at Goulburn on Thursday afternoons at the moment.
"Queanbeyan Race Course is keen to have us on board, but our main aim at the moment is we're given every right to get back to Canberra and race. Looking at Queanbeyan would be when we've exhausted all legals."
David Polkinghorne covers the Canberra Raiders, local rugby league, Canberra Cavalry, racing and cycling, along with every other sport, for The Canberra Times.