Fifteen minutes of fame for locals Yucatan, Sound Check
Yucatan seemed a good option as a name for the Domesday colt out of Folk Rock that South Australian trainer Matthew Seyers bought for $16,000 at the Adelaide yearling sales in March last year.
Gary Wilks, who owns half the horse, had thrown the name forward as a nod to the sire Domesday, aware a meteorite that struck the Yucatan Peninsula about 66 million years ago had changed the planet forever.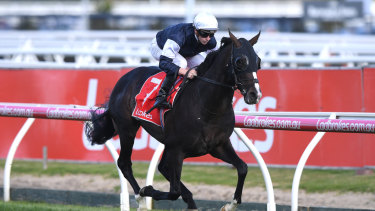 He may have thought twice about that decision on Tuesday when Seyers was – through no fault of his own – fielding phone calls about Racing Australia's decision last week to have Melbourne Cup favourite, who shared the same name, renamed Yucatan Ire for the remainder of his visit.
That farcical decision had been made despite Yucatan and German stayer Sound Check – who had his name changed to Sound – running under their real (or original) names at Caulfield a fortnight ago.
The South Australian Yucatan is no world-beater but he could develop into a handy horse, having had just one start over 1250 metres at Morphetville in June when he finished seventh of 11 and earned $600 for his trouble.
But he is an unlikely candidate to make thoroughbred racing history on the track in his lifetime.
"He's pretty easy to deal with and a run-of-the-mill-type of horse," Seyers told Fairfax Media.
"He's definitely going to stretch out over a bit of ground and he has shown enough that he is going to win some races."
Seyers knew his horse and he also knew the Irish-bred Yucatan, who was born 15 months earlier, was in a different class to his gelding, having won half a million dollars in 13 starts.
So he relayed a message to Racing Australia that seemed in keeping with his horse's easygoing nature: the connections would be happy for the Melbourne Cup favourite to run as Yucatan while their three-year-old anonymously prepared for a trial at Murray Bridge on November 15.
Soundcheck's connections had no problem either with the German horse bearing the same name (albeit with a space), with his original trainer Trevor Andrews telling Fairfax Media they had not raised the issue with Racing Australia when Sound Check ran at Caulfield.
Their main priority was organising a change of scenery for the four-year-old gelding after he showed bad barrier manners more than once in Perth when winning just one race in 12 starts under Perth trainer Trevor Andrews.
The West Australian Soundcheck recently relocated to the property of Lindsey Smith, who trained Plastered to victory in the 2004 VRC Derby, in Casuarina in Perth's south.
He will go through about three months of pre-training before next seen at the trials with his future very much up in the air.
Smith, a veteran trainer with a horseman's wit, had a cheeky idea for those in the eastern states wondering what to do about the names.
"I'm happy to swap and they can have our name and I'll take their horse and their name," Smith joked to Fairfax Media.
By about 2pm Tuesday, a week before Melbourne Cup day, all had been resolved when Racing Australia CEO Barry O'Farrell sent out a tweet stating that both Melbourne Cup horses would return to the track to race at Flemington bearing the same names as they had carried at Caulfield, Yucatan and Sound Check.
And with that a comical episode was over for the time being at least, with the South Australian Yucatan trained by Seyers not due back to the races until December and the Smith-trained Soundcheck resting in a paddock with an ocean breeze.
Depending on what happens on Tuesday, both Australian versions might start under the odds when they next go to the races.
Peter Ryan is a sports reporter with The Age covering AFL, horse racing and other sports.