Australia's world-renowned Hunter Valley thoroughbred region has been an industry leader for decades, with some of the world's leading racing operations, headed by Sheik Mohammed's Godolphin, Irish giants Coolmore and local flagship breeders such as Arrowfield making multimillion-dollar investments in regional NSW.
But the leading stud farms, having fought off several attempts by mining companies to expand their operations in the past 10 years, are worried once again. They fear that fresh pressure to approve planning permission for a new open-cast project at Drayton South could be the beginning of the end for an industry that is synonymous with Australia's multibillion-dollar racing and bloodstock sector.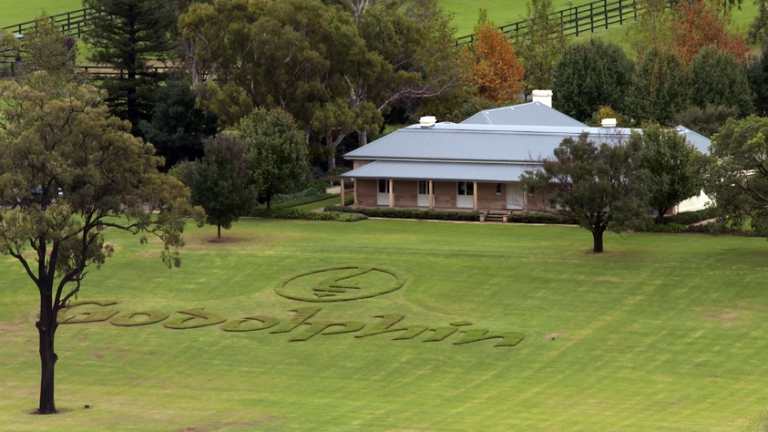 Already the Victorian breeding industry, which has long played second fiddle to the NSW giants, is capitalising on a lack of certainty over planning decisions and has succeeded in attracting Chinese, American and Middle Eastern investment and patronage.
And if the worst fears of leading NSW studmasters are realised, the industry south of the Murray could be in for significant growth in a region where there are few resource industry or environmental issues looming as a block on growth and development.
Mining company Anglo American has been knocked back on several occasions in its bid to gain approval to move from the exploration stage at its mine at Drayton South.
The resource major's holding borders Godolphin's Woodlands Stud and Coolmore's vast acreage at Jerry's Plains, two locations where leading stallions such as Exceed and Excel, Medaglio D'Oro, Lonhro, Fastnet Rock, So You Think and Cox Plate winner Adelaide are based.
But the miner is pressing on with its bid to begin production at the site, a prospect that has sparked fury in the normally bucolic valley.
A decision on yet another proposal, which has gone to planning appeal, is expected soon. The miner has produced specialist evidence in which it argues that the claims of the bloodstock industry about noise and air pollution and environmental impact on neighbouring farms has been overstated.
The appeal has created a political storm, pitting advocates of industrial development against those who champion a traditional industry which, its supporters say, is being destabilised by the lack of certainty surrounding its future.
The breeding industry fears that if Drayton South gets the go-ahead it will be the trigger for further mining expansion throughout the valley, with a wave of new capacity coming onstream that will provide huge environmental problems for thehorse industry .
They have already warned that in a doomsday scenario it could trigger a wave of closures and relocations to Victoria, Queensland, New Zealand, or even further overseas.
While there have been reports suggesting the NSW government will back the breeding industry and stymie the miners' plans, Planning Minister Rob Stokes has been quick to say that the government has yet to make a decision.
"The proposal for the Drayton South coal project is before the independent Planning Assessment Commission for determination. The government has not made any decisions in response to a determination as no determination has been made ... there has been no change in government policy and any suggestions to the contrary are incorrect," Stokes said last week.
In any high-stakes argument of this nature, emotions run high and claims can be exaggerated, but the horsemen are all clear on one thing: the uncertainty surrounding the future industrial conditions in the region are having a negative impact on nvestment plans and threaten its future.
Henry Plumptre is the managing director of Godolphin Australia, whose Woodlands and Kelvinside studs are in the affected region. The royal blue Godolphin colours are a familiar site on Australia's racetracks, although the company's breeding operations trade under the Darley name.
Plumptre pulls few punches when asked about the gravity of the situation.
"The NSW planning system is inequitable. There is no certainty and no planning. There is no leadership and no vision. Mining companies are allowed to put up countless applications and communities are stripped of their appeal rights. Those who challenge the system face death by a thousand cuts," he said.
"There is too much uncertainty in the Hunter due to the land-use conflict between mining and agriculture.
"Government inactivity to follow through on commitments to protect its iconic agricultural industries hasn't helped.
"The uncertainty is now jeopardising our future, works against diversity of industry, and is discouraging new investment. It is putting at risk thousands of sustainable jobs and prospects for future growth. All for short-term gains with no long-term vision."
Some will scoff and say this is a fight between those who favour jobs for industrial workers and those who want to protect a boutique industry run by and for the benefit of very rich men indulging their hobby.
But that ignores the cultural contribution that the horse, and Hunter horsemen, have made to Australian history and the lucrative revenues the Hunter, also a noted wine-producing region, generates through tourism.
The Hunter Thoroughbred Breeders Association say that the uncertainty is already seeing new bloodstock players ignore what was traditionally the go-to place in Australia when big investors wanted to set up a new stud. They are looking favourably at other states – or not investing at all.
The Chinese Yulong group has invested in a farm near Pakenham in Victoria and, according to Thoroughbred Breeders' Victoria executive officer Patrick Clancy, has spent north of $10 million on land and breeding stock, and plans to up its commitment.
Victoria has also benefited from American and Qatari investment at the expense of the Hunter.
Spendthrift Farms, the giant US breeding operation with its main base in Lexington, Kentucky, moved into the Victorian market last year when it bought Yallambie Stud, at Romsey, its first foray into the Australian market. The venture will include breeding, racing, stallions, and buying and selling in the local sales market.
Some of the biggest spenders in the racing and bloodstock world in recent years have been the Al Thani family, the rulers of Qatar.
Sheikh Fahad made his first splash in Australia when his galloper Dunaden won the Melbourne Cup. He now has mares in Victoria, at Stonehouse Thoroughbreds, near Maldon.
His cousin, Sheik Johann – who owned dual Prix de l'Arc de Triomphe winner Treve – has also got a toehold in the Victorian industry with his shuttle stallion Toronado being employed at Swettenham Stud, Nagambie.
The Goulburn River town is also the location for Godolphin's Victorian operation, at which promising young stallions Brazen Beau and Helmet are standing. While Plumptre doesn't say that his company would shut down its Hunter operation and relocate overnight, the fact there is an alternative is a positive option for Godolphin/Darley.
"The uncertainty in the Hunter Valley has already resulted in increased international investment and growth in Victoria," TBV's Clancy said.
"We would anticipate that this will continue while the mining industry continues to loom as a major issue for the NSW breeding industry."
Cameron Collins is president of the HTBA and also the managing director of the Scone Equine Hospital.
"If the Drayton South mining was to go ahead then you would threaten the viability of Coolmore and Darley in the Hunter Valley and therefore have a trickle down effect on the rest of the industry," he said.
"The Hunter's industry has developed over 150 years. You have got a lot of intellectual property, skills, equipment, and knowledge that couldn't be picked up and moved immediately. You are talking about dismantling an existing industry which would then take 30-40-50 years to rebuild.
"If these guys go, then you start to dismantle the Hunter industry. Potentially the cost would be enormous."
Collins knows first-hand the benefits of having a successful industry cluster.
His Scone veterinary business is the largest practice in the southern hemisphere and has been able to capitalise on its proximity to the nation's best-known studs to attract high-calibre staff.
"To lose the core assets of the industry would have an enormous effect on our business. We contribute to equine research around the country and around the world. If you suddenly don't have those veterinarians working here, or take away a reason for them to be here, the Australian industry will run the risk of losing them.
"We're talking $500 million per annum, $2 billion to the state and $5 billion to the country in breeding and racing. It's not an insignificant industry, and the advantage we have is that it's a sustainable industry, one that is long-lasting and renewable.
"It's not just the input it makes to the state's economy and employment for 20 years, which might be the life of a coal mine. This has been going for 150 years and it can go for another 150 years if it's allowed.
"I don't think we have seen a major new farm invest and build in the Hunter in the last six or seven years. It's the same in my own business.
"We have a state-of-the-art hospital which has been designed down to the shape of the doorknobs and the colour of the doors, but we have not proceeded with it. It's been on hold now for six years."
So in an ideal world, what would the Hunter Thoroughbred Breeders Association like to see happen?
"The first step will be a rejection of this particular application to mine at Drayton South," Collins said.
"We see the next step as being the state government putting a state environmental plan on the location so nobody else can mine that site, whether it's the current or future owners.
"The next step is for the government to actually recognise that the critical industry cluster that is the Hunter Valley breeding industry needs to be protected with buffers around it.
"Until we get to that third step the industry has a lot of uncertainty to deal with."
*Michael Lynch travelled to NSW to hear the arguments about the mining sector and the thoroughbred industry as a guest of Godolphin Australia and the Hunter Valley Breeders Association.
Michael Lynch, The Age's expert on soccer, has had extensive experience of high level journalism in the UK and Australia. Michael has covered the Socceroos through Asia, Europe and South America in their past three World Cup campaigns. He has also reported on Grands Prix and top class motor sport from Asia and Europe. He has won several national media awards for both sports and industry journalism.