MELBOURNE Cup-winning jockey Brett Prebble was presented with Wirth's gold whip on Wednesday for his efforts on Green Moon and his first question was "who made this?".
Away from the track, the champion jockey has a thriving business selling products for horse racing under the Persuader label. On Cup day, Frankie Dettori made an urgent call to Prebble to buy a saddle, boots and a whip when his gear was lost in transit from the United States.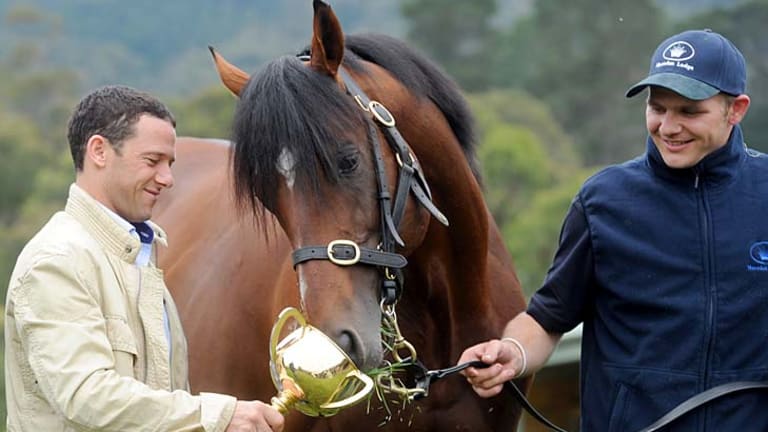 "His gear arrived and he gave me the boots back," Prebble said.
Wirth's gold whip is a tradition dating from 1888 and for a man who crafts whips for colleagues around the world it holds extra significance.
"I'm very passionate about it," said Prebble, who makes whips in Hong Kong. "The majority of jockeys around the world with the exception of America would use my whip.
"I actually hand-make the top jockeys' whips, they are quite fussy and I like to make as close to what they want as possible. It is very satisfying and something I will continue after I finish riding."
Hong Kong-based Prebble was allowed to miss his commitments at Happy Valley on Wednesday as he soaked up his victory in Australia's biggest race. He spoke of the many messages he received from supporters in Hong Kong.
"It is the world's race now," Prebble said. "Everyone knows about it.
"If I hadn't won yesterday I would have been back in Hong Kong by now — like I have been the six times before when I was beaten.
"It's usually hard to get a release from rides because we are contracted to the [Hong Kong] Jockey Club, but they were very understanding."
With a Golden Slipper and Melbourne Cup under his belt, Prebble wants to add the other two majors, a Caulfield Cup and Cox Plate.
"I would love to come and win a Cox Plate, particularly on a Hong Kong horse, and I think I might be riding one over there that could get the job done," he said, "and I'd love to come back to ride Green Moon because I think he can improve."
Morning & Afternoon Newsletter
Delivered Mon–Fri.