AS MANY as three high-profile Victorian horse trainers are persons of interest to the Australian Crime Commission.
Fairfax Media understands they are under investigation over the use of peptides, which have a similar effect on racehorses as do steroids. It improves the growth and development of muscles.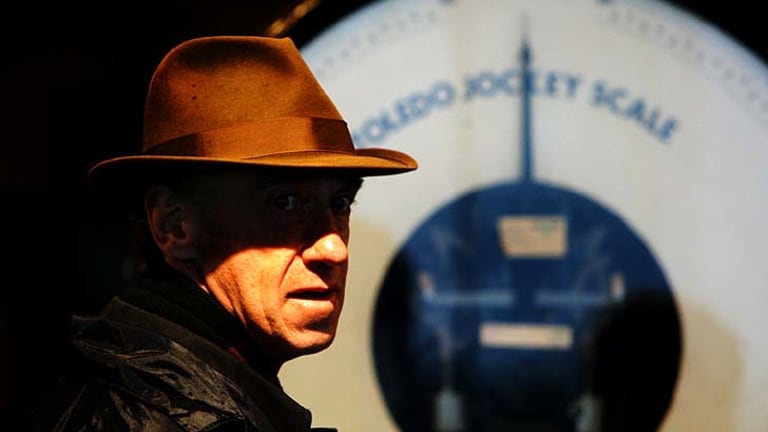 Racing Victoria chief steward Terry Bailey would not comment on the report but said that RVL had been testing for forms of peptides for some time.
''We have been testing here in Melbourne, and they have also been testing in Hong Kong,'' Bailey said. ''We tested extensively during the spring carnival, and all of those tests have come back negative.''
On Thursday, the ACC released the results of a year-long investigation that found banned drugs were being widely used in Australian professional sports.
It also had concerns over the use of peptides in racing.
''The ACC had identified interest in the administration of peptide to thoroughbred racehorses for the same reason that these substances are used on humans - injury rehabilitation and to promote recovery,'' its report said.
''These substances are prohibited for use on racehorses, and although it is suspected that peptides are being administered to racehorses the extent of use across the industry is the subject of ongoing inquiries.''
Racing NSW chief executive Peter V'landys said: ''We have been warning other sports for some time that as betting increases, so does the risk of corruption. As a sport that is based on betting, we are always developing and improving our integrity practices. When we test a sample, it is tested for more than 1000 different drugs.''
Racing NSW chief steward Ray Murrihy said Racing NSW had been briefed by the ACC.
''We're certainly alive to the issues which the Australian Crime Commission raised,'' Murrihy said. ''We don't have any specific information at this stage regarding NSW racing but we will continue to liaise as they are able to give us information. But we're going to be pre-armed anyway.''
Last month, Victoria's Racing Integrity Commissioner, Sal Perna, called on Victoria Police to re-establish its racing squad to investigate allegations of criminal links to racing. Senior police rejected the recommendation but began considering a sports integrity unit for all codes.
Now, after the release of the ACC findings, Premier Ted Baillieu said the unit would be established.
Morning & Afternoon Newsletter
Delivered Mon–Fri.