Waller to start Single Gaze in Chelmsford Stakes
At this stage the Melbourne Cup isn't on Single Gaze's radar, but the Caulfield Cup is an option for the former Canberra mare.
She'll have her third-and-final trial at Rosehill on Monday morning as she prepares for her first run for the Chris Waller stable, where she joined supermare Winx after she was sold by her Canberra connections earlier this year.
That run will be the group 2 Chelmsford Stakes (1600 metres) at Randwick on September 1 to start her final preparation before she begins her breeding career in Japan.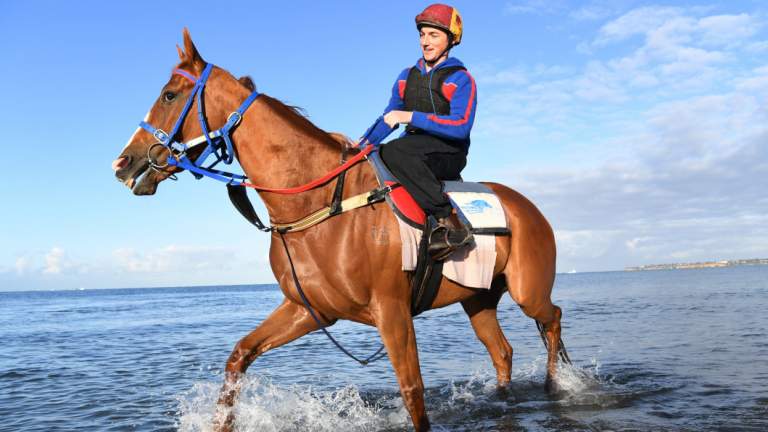 Single Gaze controversially joined Waller after Canberra trainer Nick Olive sold her to Katsumi Yoshida under the belief she wouldn't race.
But a breeding-only clause wasn't included in the contract, which meant Yoshida was free to do with her what he wanted.
Waller's racing manager Charlie Duckworth said she had settled in nicely.
"We're happy with how she's come through her first two trials and she'll just have her last trial tomorrow and then head straight to the Chelmsford first-up over a mile, which is why we put her through three trials instead of just the two," he said.
"She'll be nice and fit and ready to run right up to her very best over the mile first up."
Single Gaze's run in the Chelmsford will help map out the rest of her spring - whether she stays at a mile or looks for further.
Charlesworth said at this point the Melbourne Cup wasn't on the agenda, given she was yet to prove herself at 3200m.
She finished 17th in the Melbourne Cup last year and was then scratched due to illness in the lead-up to the Sydney Cup in the autumn.
But he said the Caulfield Cup (2400m) was an option, after she finished a gutsy second in it last year
"We'll just have to see how sharp she is or how dour she is. She could head to a race like the [group 1] Metropolitan [on September 29] or something similar to that," Charlesworth said.
"The new owners have spent good money on her and are just looking for a return on their investment, as well as trying to get some more black type on her page.
"If she can try and get another group 1, I don't think it really matters where or what the group 1 is.
"It's probably too early to tell whether we'd got to the Melbourne Cup. It's inconclusive whether she stayed the two miles last year.
"We're not preparing her whole preparation to get to the Melbourne Cup.
"She ran a blinder in [the Caulfield Cup] last year so it certainly won't be out of our calculations."
Kathy O'Hara developed a special relationship with Single Gaze when she was with Olive, riding all five of her wins on her way to more than $2.3 million in prizemoney.
She's played a crucial role in helping the Waller stable get to know the six-year-old mare and will ride her in the Chelmsford.
"We're trying to use Kathy as a guide as to how the horse is going. It's very hard trying to take over without knowing the horse prior to this preparation," Charlesworth said.
"We'll play it by ear, but she'll be riding her first-up in the Chelmsford and get a good line on her and work out exactly where we are."
David Polkinghorne covers the Canberra Raiders, local rugby league, Canberra Cavalry, racing and cycling, along with every other sport, for The Canberra Times.