ACT Brumbies journeyman Isaac Thompson makes Super Rugby debut at 29
Twelve years after representing the New Zealand schoolboys in Canberra, ACT Brumbies playmaker Isaac Thompson was back in the capital for his long-awaited Super Rugby debut.
Thompson, who turns 30 in July, was almost the Brumbies' hero against the Durban Sharks on Saturday night when the Kiwi came off the bench and attempted a match-winning drop goal from 45m with one minute remaining.
It wasn't to be for the flyhalf as his shot sailed wide and the Sharks then rubbed salt in the wound with a dramatic after-the-siren try to steal victory.
"I felt comfortable before and hit it sweetly but my body wasn't in the best position to kick it, so I probably should have just taken it up. But it was just one of those ones where you back yourself and have a crack and unfortunately it went too far left," Thompson said.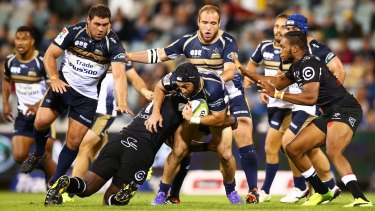 "We talk about backing every decision we make 100 per cent and that's what the boys said to me after the game, but deep down I'm pretty gutted about it."
Wallabies prop Scott Sio will miss another week with hamstring tightness, but Thompson is hoping coach Stephen Larkham gives him another taste of Super Rugby when the Brumbies host the Western Force on Friday night.
"It was pretty satisfying [to debut] and I felt like I made a bit of an impact. That's what they want from the bench — a bit of spark — and I thought I created some of that," Thompson said.
"Obviously it was disappointing at the end but I just need to move on and we'll see what Bernie [Larkham] wants to do next week, but hopefully I get another crack."
Larkham was pleased with Thompson's performance and echoed his players, backing the second choice No.10's decision to put the game on his boot at the death.
"He is a very good kicker of the ball and backed himself to win the game for us. I'll always back my players and I think he had the skill to execute that play but it just didn't come off for him," Larkham said.
"He had good game management and did a good job steering the boys around in terms of our attack shape, he kicked well and saw some space in that back field and put a couple of guys through in attack."
It's been a long road for Thompson from teenage talent to club rugby journeyman, but the 29-year-old wouldn't have it any other way.
"It has been a very long journey, I wasn't really in the mix back in New Zealand so I made the move to Oz and it took me a few years here. But I guess persistence is key and not giving up on your dreams," Thompson said.
"It's tough. I almost gave up last year in terms of rep footy and I wasn't going to play NRC but I was sort of forced to play and it's paid off, but it's a long, tough road.
"I'm just trying to impress [throughout the month] and if there's another injury down the line I think I'm good enough to be called upon again."
Thompson should get his second chance to impress against the Force.
"We're 0 from two now, so we need to get the ball rolling. They are two games that we could have had, so we're there or thereabouts, we just need to fine tune some little things," Thompson said.
SUPER RUGBY — ROUND 3
Friday: ACT Brumbies v Western Force at Canberra Stadium, 7.45pm.
Eamonn Tiernan is a sports reporter with The Canberra Times