ACT Brumbies rookie Ryan Lonergan trades schoolies for Super Rugby contract
ACT Brumbies rookie Ryan Lonergan was getting flogged in fitness drills while his mates were enjoying a south coast "schoolies" getaway.
But the teenage halfback was happy to trade end-of-school celebrations for ACT Brumbies training as he takes the first step in his rugby union career.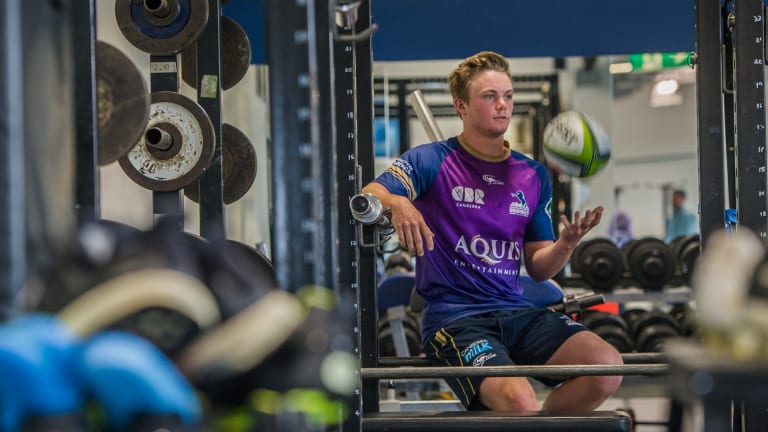 Lonergan's nerves next week will have nothing to do with being coached by Stephen Larkham or running next to Wallabies.
Instead, the former Trinity Christian College student is waiting for his Australian Tertiary Admission Rank after completing his year 12 exams.
"Hopefully the results come through and they're good. My ATAR estimates were looking pretty good so I'm not too nervous at this point," Lonergan said.
"I tried to focus on school [after signing a Brumbies contract] so it wasn't too bad. I got through it pretty well.
"It's a bit weird [training with the Brumbies] but I'm getting used to it now. They're just normal blokes and it's really good to be able to train with them and learn off them."
Lonergan is the latest Canberra junior to break into the Brumbies with Larkham investing in the capital's talent to lead the club to a Super Rugby title.
The 18-year-old joins Tom Staniforth, Joe Powell, Tom Cusack, Les Leuluaialii-Makin, Faalelei Sione and Jordan Jackson-Hope in being plucked from Canberra's junior ranks.
Lonergan is on an extended player squad contract to fast-track his development.
He will play behind Powell and Argentina international Tomas Cubelli in his debut season and Lonergan concedes his quest for game-time is an uphill battle.
He will instead focus on earning a spot in the Australian under-20s team and being ready for a shock call into the Brumbies side.
"My body has been pretty sore after the first few weeks, but I'm really enjoying the fresh start," Lonergan said.
"It's a massive change from sitting in the classroom all day. It's tough but I think I'm getting a bit used to it now.
"I am [pinching myself a bit] it's pretty crazy. I'm still trying to get used to it, I can't believe it. It's such a privilege to be able to train with these boys and I'm just loving every minute of it."
Veteran hooker Saia Faingaa is at the opposite end of the spectrum to Lonergan, returning to Canberra for the first time in seven years for what could be his final years in Super Rugby.
Queanbeyan junior Faingaa made his Brumbies debut in 2006 before shifting to the Queensland Reds in 2009.
"It's been great so far. I cherished my time in Brisbane but it's a blessing in disguise to be back home," Faingaa said.
"There's family and friends, I guess I forgot how people respect the Brumbies and how tight-knit Canberra is. I'm really loving it down here at the moment.
"Coming back here with the family and to be coached by [Larkham], for me it was a great opportunity. I never thought Stephen would be coaching me."
Chris Dutton is the sports editor at The Canberra Times.