ACT Brumbies sign young guns Mack Hansen and Darcy Swain to bolster Super Rugby squad
Mack Hansen fits the Stephen Larkham mould perfectly as a headgear-wearing playmaker who glides through gaps, but the flattered rookie says he wants to walk his own path in Super Rugby.
The ACT Brumbies have added young gun Hansen and lock Darcy Swain to their extended squad for the 2018 season as the club keeps one eye on the future.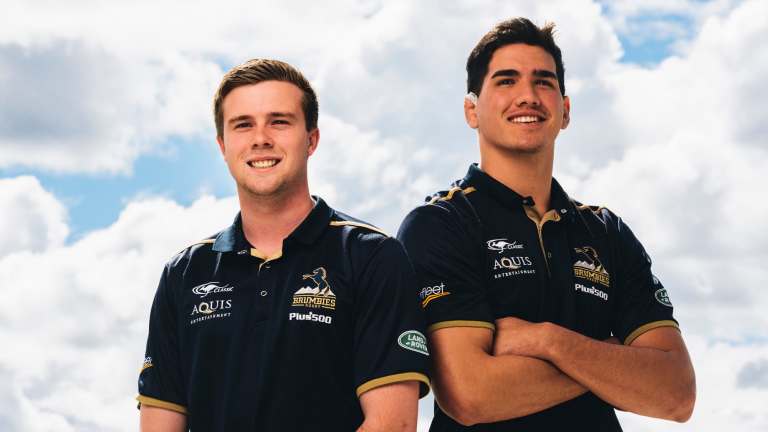 Hansen has spent the past 12 months bulking up, adding 10 kilograms to his lanky frame as he prepares to chase his dream of playing for the Brumbies.
The 19-year-old has already been compared to a young version of Brumbies and Wallabies great Larkham because of his silky style and ability to slice past defenders.
The Brumbies are wary of burdening him with great expectation, especially after injuries ruined Nick Jooste's two years in Canberra after being dubbed 'Bernie junior' because of his similarities to Larkham.
But Hansen, the grandson of one-Test Australian rugby league player Kevin Hansen, is keen to rise to the challenge.
"I was in pure shock [when the Brumbies offered a contract]. I thought maybe later on if I kept working I'd get there, but to get it at this age is amazing," Hansen said.
"I get to do rugby as a job now. [Larkham] was one of my favourite players of all time. But I've got a lot to prove before I'm anywhere near him.
"At the same time I want to take my own path in my rugby career. When I did my shoulder a couple of years ago I focused on speed and this year when I did my ankle I focused on putting on weight.
"It's the way you look at an injury - you can either be down about it or use it to improve."
Brumbies coach Dan McKellar believes the rookie duo can take the giant leap to a Super Rugby program next year and they'll use the National Rugby Championship as a stepping stone to get there.
McKellar still has to fill two full-time roster spots, but the Brumbies will likely delay the final recruitment drive until the ARU and Western Force finalise an ongoing legal saga.
Hansen and Swain have been recruited as development players to add depth to the Brumbies and they are viewed as stars of the future.
Swain, a 200 centimetre second-rower, played for the Australian under-20s this year after deciding to leave his home in Brisbane to take a chance in Canberra.
Swain has been juggling a university degree, working part-time as a labourer, at a childcare facility and at a car wash with his rugby ambitions.
"It's pretty surreal, I moved [to Canberra] to follow my dream to play professional rugby ... it was a no-brainer," Swain said.
"This next year will be a big learning curve. I'm happy to sit back and learn and if I get some game time with the Brumbies, that will be awesome."
Hansen and Swain will be a part of the Canberra Vikings squad which starts training in the coming days for the first game of the NRC season.
The Vikings will start their season against Queensland Country at Viking Park on September 2, with the team set to wear an ACT Kookaburras heritage jersey.
Brumbies captain Sam Carter could also play for the Vikings, while scrumhalf Joe Powell looms as an inclusion after being left out of the Wallabies' game-day squad for the first two Bledisloe Cup matches.
NRC DRAW
September 2: Canberra Vikings v Queensland Country at Viking Park, 1pm.
September 10: Canberra Vikings v Perth Spirit at Viking Park, 1pm.
September 17: Brisbane City v Canberra Vikings at UQ Rugby Club, Brisbane, 1pm.
September 23: NSW Country Eagles v Canberra Vikings at Bellevue Oval, Armidale, 1pm.
September 29: Canberra Vikings v Fiji at Viking Park, 7.30pm.
October 8: Melbourne Rising v Canberra Vikings at Frankston Park, Frankston, 1pm.
October 15: Canberra Vikings v Sydney Rays at Viking Park, 3pm.
October 29: Greater Sydney Rays v Canbera Vikings at TG Millner Oval, Sydney, 3pm.
Chris Dutton is the sports editor at The Canberra Times.