ACT Brumbies wait on Super Rugby clarity as they continue search for new coach
The ACT Brumbies could delay announcing their new coach until the organisation has clarity on its Super Rugby future as SANZAAR weighs up restructuring the competition.
The Brumbies have been interviewing a short list of coaching candidates to replace Stephen Larkham at the end year, despite the uncertainty in Australian rugby.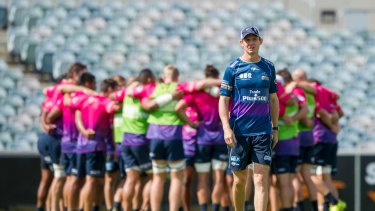 It is hoped SANZAAR officials will make a decision in the coming weeks about whether it will reduce the number of teams in Super Rugby from 18 to 15.
The Brumbies, Western Force and Melbourne Rebels are in the firing line if an Australian team is axed.
But the ARU is involved in the Brumbies' coaching recruitment process and did not intervene or prevent the club from starting the interview stage.
It is believed Brumbies assistant coach Dan McKellar and former coach Laurie Fisher were part of the short list to fill Larkham's shoes when he joins the Wallabies in a full-time role.
Meanwhile, Australian teams are set to push the ARU for an increased salary cap and bigger squads if one of the franchises is axed from Super Rugby in the coming weeks.
The uncertainty surrounding the competition and individual teams has left players in limbo and some overseas clubs are already circling recruitment targets.
There was speculation earlier this week the Force will be cut from Super Rugby if South Africa agrees to a new 15-team structure.
But the Brumbies and Rebels are still waiting be told they are safe as SANZAAR remains silent.
If an Australian team is exiled, players with contracts beyond the end of this year will be spread around to the remaining franchises and it is believed all clubs are starting to examine rosters for the future.
The ARU sets a salary cap of $5 million for a squad of 30 full-time players per Australian team, but it is not known if those figures will increase to accommodate for players from an axed club.
The current collective bargaining agreements finishes at the end of the year and Rugby Union Players Association boss Ross Xenos said there could be a push to expand squad sizes even if all five Australian teams survive.
"It just so happens this is the last year of a four-year deal. What that means is that any changes to the competition will be pretty important in factoring into the new CBA," Xenos said.
"Some of the rationale about a potential reduction [of Australian teams] is that it would have a high-performance benefit.
"To bring that to life, we still have to ensure we have the depth of players and aspiring players coming through.
"If you look at the squad sizes compared to the number of players used in Australia, Super Rugby teams have consistently used more than they have had on full-time contracts.
"There are clearly some indicators that we could benefit from having larger squads as it is."
RUPA launched an online petition on Thursday to garner support for Australia's five teams and save the game's national footprint, warning of "permanent damage" to rugby if the axe drops.
The petition, entitled "Stronger As Five", warns that agreeing to cut an Australian team as part of a wider Super Rugby shakeup will "signal a retreat" in the competitive Australian sporting market place.
It also places responsibility for any decision - expected as early as next week - squarely at the feet of the ARU.
"Super Rugby can only change if the ARU votes for it. This is the ARU's call," the petition said.
"We have five Super Rugby teams all eager to participate in the competition and who have committed to being commercially viable. Whether it's 18, 16 or 15, there are competition models which support five Australian teams. But the ARU may decide that one team won't be given the chance to continue."