ACT schoolboys make history with best Australian representation in 17 years
Canberra rugby officials believe the capital's biggest Australian schoolboys contingent in 17 years is proof a restored pathway and rebuilt junior program can help a rising generation burst into the ACT Brumbies.
Five Canberra players – Ryan Lonergan, Lachlan Lonergan, Tom Ross, Francis Soaka-Tai and Luke Gersekowski – were named in the Australian side to tour Samoa and New Zealand after the national championships, while Mack Hansen and Lachlan Osborne were picked in the Barbarians side.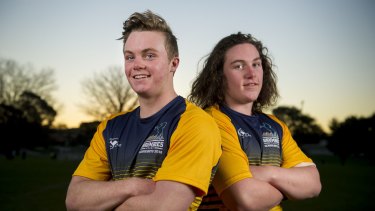 It's the most ACT players in the schoolboys team since 1999, passing previous groups that included Saia and Anthony Faingaa, Robbie Coleman and even former Canberra Raiders skipper Terry Campese.
The Brumbies have restructured their junior gold pathways and Super Rugby coach Stephen Larkham is investing in Canberra talent, signing juniors Ryan Lonergan, Jordan Jackson-Hope and Tyrel Lomax.
"The plan is to have that pathway there for the Brumbies," junior program manager Russell Ingram said.
"When the ARU pulled their funding we had to change our whole program and we knew we had to develop our own for the boys. We weren't going to do nothing.
"We wanted to give the kids the best facilities and opportunities to promote themselves. Getting seven boys in two Australian schoolboys squad and five in the main team, it's easily the best since 2000 when we made the grand final."
Canberra had five players in the 1999 team to play against New Zealand, including former Wallabies Matt Henjak and Guy Shepherdson alongside Jeremy Osborne, Warren Aitken and Dustin McGregor.
Representation dried up in the years that followed until a new generation threw their weight around in Sydney last week and secured national selection.
Halfback Ryan Lonergan has already signed a deal to play with the Brumbies next year, while the rest are on Larkham's radar.
The Wallabies World Cup winner will get a chance to cast his eye over their talent when the Tuggeranong under-18s side plays Daramalan in a curtain-raiser to the Brumbies clash against the Western Force on Saturday night.
Lonergan will team up with Soakai-Tai for Tuggeranong while Ross and Hansen will be playing for Daramalan.
Meanwhile, the battle for John I Dent Cup finals spots will heat up on Saturday when Royals fight to get back in the top four and the Uni-Norths Owls chase a historic play-off berth.
Defending premiers Royals haven't won a game since May 21 and are in danger of being knocked out of the finals if they suffer a loss against Easts at Griffith Oval.
The wet weather has cruelled the team's training session with ground closures, so coach Wayne Southwell turned to a former lawn bowling green and a mental health session with the OzHelp Foundation for preparation.
"We've put ourselves in a pretty tough position, we haven't finished off games and we've got ourselves to blame but it's been through no lack of effort," Southwell said.
"We had 67 turn up [at the OzHelp] event and it was fantastic. We'll continue that, it's a great initiative organised by the club and it was really well done.
"The bowling green was old school, but it was fun. We were on there for half an hour each and the boys actually really enjoyed it."
The Owls are chasing their first finals appearance in recent memory and can hold on to fourth spot ont eh ladder if they beat the Queanbeyan Whites at Campese Field.
JOHN I DENT CUP ROUND 16
Saturday: Easts v Royals at Griffith Oval, Gungahlin Eagles v Wests at Gungahlin Enclosed, Queanbeyan Whites v Uni-Norths Owls at Campese Field. Tuggeranong - bye. All games at 3.05pm.
Chris Dutton is the sports editor at The Canberra Times.