Australian Rugby Union changes contract rules in bid to keep elite players
The Australian Rugby Union has armed itself with what it hopes will be a powerful tool to keep its top players in Australia and lure a few big names to sevens before the Rio de Janeiro Olympics in 2016.
Under new contracting rules, approved by the ARU board this week and announced on Thursday, a select group of top athletes will be able to spend one season playing in lucrative Japanese or European domestic competitions if they sign deals for three or more years.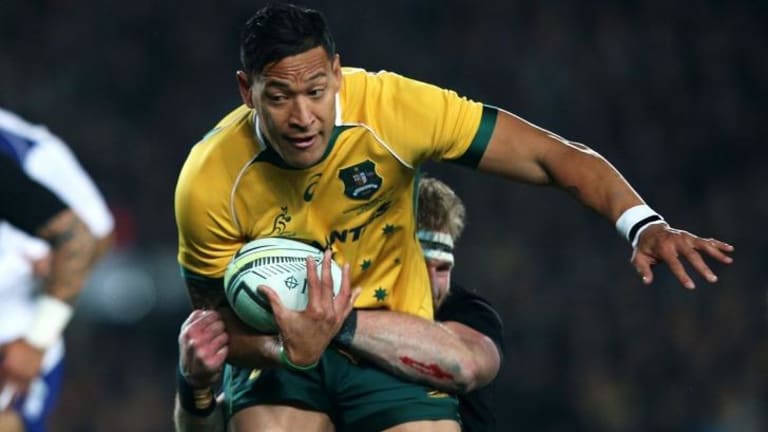 In addition, players who switch to sevens will be able to play out the year overseas in Japan before returning to Australian rugby midway through the Super Rugby season in 2017.
While the offer will apply to current sevens players as well, it is squarely designed to encourage the country's highest-profile players – such as Israel Folau – to commit to Australian rugby long term.
Assuming a 15s player would miss most or all of the 2016 Super Rugby season while they move to sevens, the provision would allow them to recoup in Japan any dip in income they experience in the first half of 2016.
The so-called flexible contracts will be offered to only a small number of the top 25 to 30 players in Australia, with whom the ARU negotiates contracts directly and exclusively.
The five Super Rugby provinces will also be able to offer one flexible contract per season to any of their domestic players outside that top group.
Outside those players, the ARU has held fast to its policy that players based overseas long-term will not be eligible for Test selection.
While it is not known how many players will be made the offer and how the process will work in practice, ARU chief Bill Pulver said he hoped it would stem the tide of top players leaving Australia.
"We're trying to be proactive to an environment where certain international rugby nations have a very strong financial capability of luring players," Pulver said.
"The current policy is really black or white. So, by introducing this flexibility, we think it makes the decision a little easier.

"Players like Kane Douglas, Sitaleki Timani, Nick Cummins, in an ideal world, they're players we would have kept long term in our game.

"They're examples of players who may be influenced by these changes."

In some quarters, it had been suggested the ARU make no concrete policy on so-called "sabbaticals".
The New Zealand Rugby Union has allowed big names Dan Carter and Richie McCaw time away from domestic duties, and Sonny Bill Williams the freedom to flit in and out of rugby league and boxing.
But Pulver revealed a conversation about the challenge of luring high-profile players to sevens for the Olympics had triggered a wider conversation.
"We consider the Olympics to be a serious priority for us," he said. "So whether it's Israel Folau or any other player, we're going to do everything we can to make sure the Australian Sevens team competes very effectively."

Georgina Robinson is a Sports Reporter for The Sydney Morning Herald
Morning & Afternoon Newsletter
Delivered Mon–Fri.