Black Ferns blast Wallaroos as women put on a show for limited numbers
Eden Park: It is early days for the double-header format in Test rugby but crowds at kick off in Sydney and in Auckland over the past two weeks suggest people will need more encouragement to embrace it.
The Black Ferns and Wallaroos kicked off to an almost empty northern stand at Eden Park on Saturday night. By half-time, when the Black Ferns led 19-10 but a late Wallaroos try foretold a second-half thriller, black jerseys were trickling in with the odd flash of gold.
In Sydney it was much the same. The crowd ended up a new record for a women's Test match (28,846), but it did not start that way.
It will be hard to convince people to cut their Saturday afternoons short by two hours but there is no doubt the rugby is worth their time.
Although Saturday's 45-17 loss was the Wallaroos' 17th straight to New Zealand, their rate of improvement is rapid enough to expect they will challenge for the Laurie O'Reilly Trophy next year.
Australia's back line, their midfield particularly, was strong but lacked the platform to really launch. Wallaroos captain Liz Patu and No.8 Grace Hamilton were inspirational on attack and defence, but the Australian set pieces and the contact area were not up to standard, allowing the Black Ferns to notch four unanswered tries in the second half and blow out the scoreline to 45-10 after a tight and exciting first half. A lopsided penalty count from the whistle of English referee Ian Tempest did not help.
The real question for the national unions of both countries will be how much of the recent fanfare has been posturing for the 2021 Women's World Cup hosting rights and how much is about building a sustainable program for the 15-a-side format?
Rugby Australia and the New Zealand Rugby Union have both pumped money and resources into their programs over the past 12-18 months.
Australia now boasts a semi-professional annual competition in Super W. Despite some lingering clumsiness, such as allowing the women's teams to be moved to a neighbouring training field for their pre-Test warm up at ANZ Stadium last week, RA's invitation to Ireland to bring out its women's team in June (the IRFU declined) shows it is serious both about building a XVs pathway and giving the Wallaroos regular matches.
The NZRU pumped plenty of energy into the return game at Eden Park this week. The Black Ferns took front-page billing in a striking wraparound advertisement in the New Zealand Herald on Friday. It was a classy touch.
The Black Ferns want a Super W-style semi-professional competition to beef up their talent pathway, but both teams want more Test matches as a higher priority.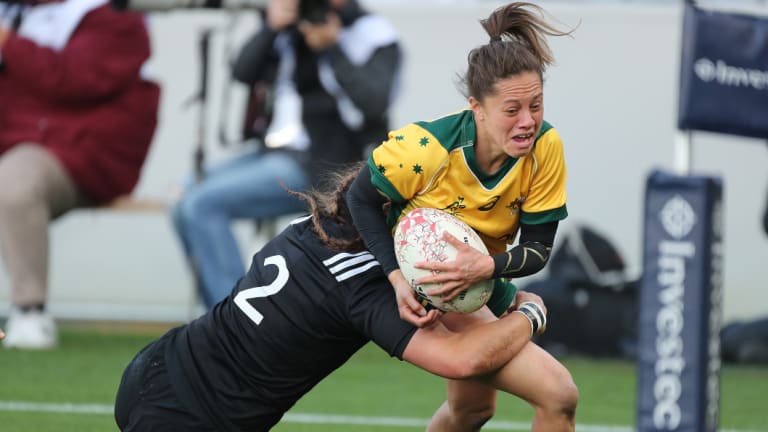 The Black Ferns scored two tries in the first 12 minutes, to tighthead Aldora Itunu and loosehead Pip Love.
The Australians' first points came 16 minutes into the match, when Emily Robinson elected to kick for the corner instead of try for a penalty goal.
Five-eighth Trileen Pomare stormed over after some patient driving play for the line. Robinson, the Wallaroos' goal-kicking loosehead prop, couldn't convert, leaving Australia trailing 12-5.
Second rower Eloise Blackwell scored next for the home side and halfback Kendra Cocksedge converted to make it 19-5 in the 24th minute. Patu scored on halftime to put the scores at 19-10 at the break.
Hamilton impressed with a try-saver shortly after half time but the Wallaroos lineout wasn't good enough. Inside centre Theresa Fitzpatrick scored in the 45th minute and the Black Ferns extended their lead to 26-10 after the conversion.
Emily Robinson was sin-binned in the 51st minute, leaving Australia's set piece exposed. The Black Ferns wasted no time, sending Cocksedge over two passes off the scrum. She converted to put them 33-10 in front.
Two more tries came in the next 10 minutes blowing it out to 45-10 but a late try to Hana Ngaha made it 45-17 after the conversion.
Georgina Robinson is a Sports Reporter for The Sydney Morning Herald