Brumbies re-sign Jordan Smiler after he opts out of joining French club Nevers
ACT Brumbies flanker Jordan Smiler was willing to turn his back on his professional rugby career for the good of his family.
But the Brumbies have thrown him a two-year Super Rugby lifeline to ensure he can remain in Australia to put the health of his 18-month-old son Keanu first.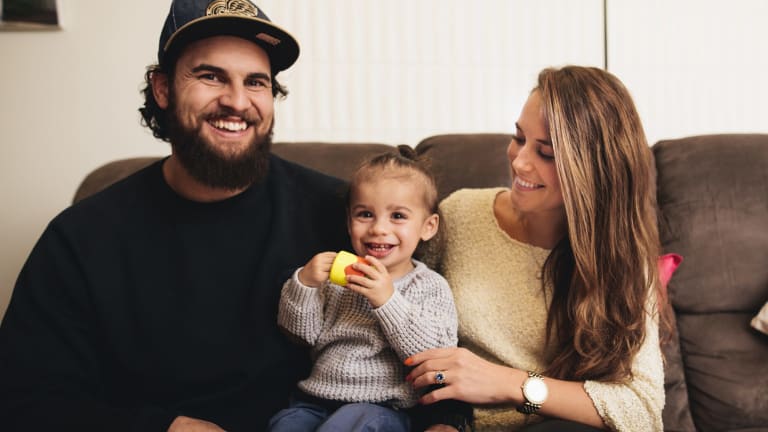 Smiler is aptly named - the friendly Kiwi always seems to have a broad grin that not even his big bushy beard can hide and he is always up for a chat.
It seems that smile is something he's passed on to Keanu, who was born with club foot.
Keanu needed surgery when he was just one month old and he'll wear special boots until he's four to help straighten his feet, which were rotated in at the ankles.
Smiler's father, who lives in New Zealand, is ill and the Brumbies loose forward said the time wasn't right to move his young family to France.
The 30-year-old had signed a two-year-deal with second division French club Nevers, but he decided to remain in Canberra instead.
His only plan was to play for the Canberra Vikings in the National Rugby Championship and if that presented an opportunity then so be it.
While the Brumbies have swooped, Smiler knew his decision could potentially have ended his career.
His wife Stacey is a teacher and Smiler said it was also time to start focusing on her career as well.
"It was just the wrong timing. I would have loved to have gone over, but I'm married now and with a son you have to think about what's best for your family overall," Smiler said.
"I've been thinking about and doing my own thing for a long time now so I had to put the family first.
"Without going into details, the health of my father was a bit unexpected, but he's doing well, I need to stay close to him.
"My son he was born with club foot ... so we need to be around for him as well, for him to see specialists for the next little while, just to continue looking at his feet.
"So they were the main [considerations] and then being able to give my wife an opportunity to further her career.
"Taking all that into consideration, this year wasn't the right time to leave.
"I was comfortable without really having a back-up plan for rugby."
Smiler didn't rule out moving to France again in the future if things change on the family front.
He was thankful to Nevers for understanding his situation.
They'd hoped the versatile forward, who can also play in the second row, would help lift them into the French Top 14.
Smiler said it was an "uneasy feeling" not knowing what the future had in store for him.
But he'd set his mind on making up for last year, when the Vikings missed out on the finals in the inaugural NRC season.
"[The Brumbies] wanted to keep me around right from the beginning, before I even made the decision that I was going to go [to France]," Smiler said.
"The door's always open [to go to France in the future] from my end anyway and I'm pretty sure they were comfortable letting me go under those circumstances.
"If there's an opportunity to go back in the next year or so then obviously I'd approach them if they're interested and if not then that's just the way it goes."
Brumbies chief executive Michael Jones said they'd signed Smiler on a two-year deal, but there was the option for Smiler to head to France at the end of the first year - although the Brumbies do have the option to match any offer a French club made.
Smiler started out playing for Waikato in the ITM Cup in New Zealand, before he moved into the Kiwi sevens program.
But he never played for them, which opened the door for a move to Australia and he ironically made his international debut for the Aussie sevens team.
Which was when the Brumbies came knocking and he made his Super Rugby debut against the Otago Highlanders in 2013.
Now he'll form part of the Brumbies' push to go two steps better than this season's semi-final.
"It's a two-year deal, but he has an option at the end of the first year to go to France, but we have a matching rights on the option," Jones said.
"He's a great guy ... we've got him definitely for next year and possibly the year after and we have a matching right on the second year."
With his future secure, Smiler no longer needs to worry about that uneasy feeling for the next couple of years and just focus on putting his family first.
David Polkinghorne covers the Canberra Raiders, local rugby league, Canberra Cavalry, racing and cycling, along with every other sport, for The Canberra Times.