Brumbies search United States for hidden Super Rugby stars
The ACT Brumbies believe they can be the first Super Rugby team to tap into the American market, with coach Stephen Larkham to go on a research mission to the US to evaluate untouched talent at universities.
The two-time champions are setting up a "USA Brumbies" academy system based at Arizona State University. Potential recruits will train in the US with the aim of earning a Super Rugby spot.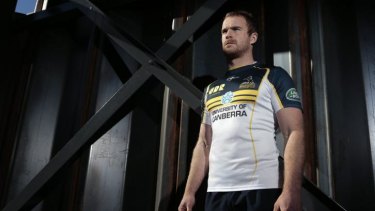 Larkham and commercial academy manager Nick Leah will fly to the US in September for camps in New Jersey, Minnesota and Arizona to find the best talent for the program.
It's part of an academy relationship the Brumbies have set up with international teams, which already includes the Papua New Guinea national side and Japanese team Kubota.
Arizona State University has the largest student base in the US, with more than 60,000 students, and is in division one of the National Collegiate Athletic Association competitions.
"Basically, players will pay to be in a full-time rugby program," Leah said.
"They will pretty much live like Brumbies ... the first step in Arizona is to train the staff. Stephen and I will be going over in September to look at players and we'll offer a scholarship."
Under Jake White's tutelage, the Brumbies turned to South Africa for recruits because the Australian market was thin on players.
Larkham won't be looking at university players for Super Rugby action until the Arizona program is advanced in the coming years, but it's understood the Canberra Vikings were close to signing a USA Eagles player for the National Rugby Championships.
Vikings coach Dan McKellar will announce his squad on Friday for the inaugural NRC season.
McKellar, who is also a Brumbies assistant coach, has challenged his players to use the NRC to prove they are capable of stepping up to Super Rugby.
The Vikings will combine 14 Brumbies with 19 part-time club rugby warriors from Canberra's first-grade competition.
Brumbies hooker Josh Mann-Rea will play for one of the Sydney teams.
Club players Rowan Perry, Les Makin, Rodney Iona, Drew Southwell, Tim Cree, Matt Hawke and Liam Slater are set to be included on the Vikings roster.
Brumbies players Fotu Auelua, Jesse Mogg, Robbie Coleman, Jarrad Butler, Jordan Smiler and Allan Alaalatoa will lead the team.
"Stephen Larkham has said there are contract spots available for guys who perform well in the NRC," McKellar said.
"Guys who perform well at this higher standard, it's a possibility that they can make the step up.
"There's Tim Cree, Rodney Iona, Les Makin and Matt Hawke who have been involved in the Brumbies and it's exciting to see how they'll go."
The Vikings will begin their season on August 23 against Perth and play four home games at Viking Park.
CANBERRA VIKINGS
Wallabies allocation: Sam Carter, Christian Lealiifano, Pat McCabe, Scott Sio.
Brumbies allocation: Fotu Auelua, Jesse Mogg, Robbie Coleman, Jarrad Butler, Allan Alaalatoa, Siliva Siliva, Jordan Smiler, Tom Staniforth, Sean Doyle, Michael Dowsett, Henry Speight, Joseph Tomane, Nigel Ah Wong, Rodney Iona, Ruan Smith, JP Smith.