Brumby Alexander not about to race away
Ben Alexander wants World Cup and Super Rugby success and the star prop is convinced he can achieve his goals by recommitting to Australian rugby until the end of 2015.
Fairfax Media can reveal Alexander is on the verge of signing a new two-year deal to keep him with the ACT Brumbies and the ARU.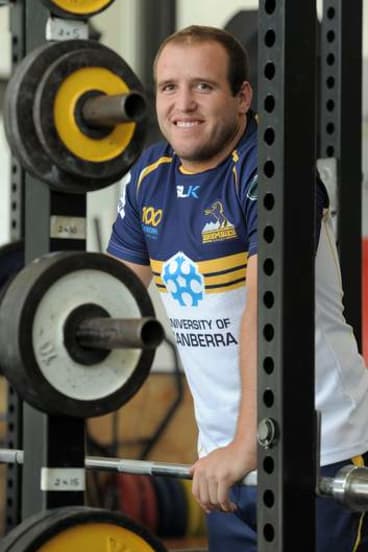 It's a major boost for the Brumbies, with captain Ben Mowen pledging his desire to remain in the capital, Stephen Moore close to a new deal and David Pocock starting a three-year deal.
It's also a good sign for the Wallabies as they begin building for World Cup glory in 2015.
And while Alexander's deal is all but finalised, the versatile front-rower hopes teammate Dan Palmer will join him to forge a strong prop combination and resist the temptation of playing in Europe.
Palmer has been linked with a possible move to France at the end of the season, with the tighthead's future beyond the Super Rugby season unclear.
But Alexander said Palmer was an important part of Australian rugby and he was ''invaluable'' to Super Rugby and World Cup success.
''He's a great asset to the Brumbies and Australian rugby. The way he thinks about scrummaging is a unique perspective and that's invaluable … I'd certainly love to see him stay here and continue to play alongside him,'' he said.
Alexander's ARU and Brumbies contracts expire at the end of this year's campaign.
But the 28-year-old is ready to finalise his future and desperately wants team success with the Brumbies and Wallabies.
That will start with the Super Rugby season before the Wallabies take on the British and Irish Lions.
But Alexander's biggest goal is to reach the pinnacle of world rugby and help the Wallabies win the World Cup in England.
He made his World Cup debut two years ago and helped the Wallabies to a third-place finish in New Zealand.
''It was a great experience [at the 2011 World Cup], but I wasn't happy with how it finished,'' Alexander said.
''I'd love to get another crack at a World Cup, and emotionally and mentally it's one of the toughest times I've been through in rugby. It burnt not to be a part of the World Cup final.''
Alexander returned to training with the Brumbies last week after a gruelling domestic and international 12 months.
The Brumbies are determined to end an eight-season finals drought after going agonisingly close last year.
It was the first year with Jake White in charge and a new-look squad meant Alexander had ''the most enjoyable season of my career''.
''It was pretty obvious to everyone who watched that all the boys were enjoying themselves, and why would you want to leave that?'' Alexander said.
''Why wouldn't you want to do it again? I never wanted to leave … you don't play rugby for personal achievements, you play it to win World Cups, Super Rugby titles, Bledisloe Cups and British and Irish Lions series. There are still those opportunities.''
The Brumbies begin their season against the Queensland Reds at Canberra Stadium on February 16.
Morning & Afternoon Newsletter
Delivered Mon–Fri.