Canberra Vikings lock in heritage round to wear ACT Kookaburras jersey in NRC round one
The Canberra Vikings will invite ACT Kookaburras players to help launch their National Rugby Championship season after finalising details to recognise the capital's rugby history.
The Vikings have finalised a plan to wear a Kookaburras jersey for their round-one clash against Queensland Country on September 2.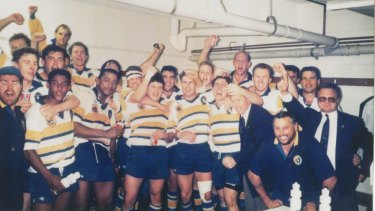 There will also expected to be a Kookaburras reunion on the same day in a move which will please Canberra rugby traditionalists who have campaigned for the Vikings to acknowledge the past.
The Kookaburras were Canberra's representative team and a wore blue, yellow and white strip. The Vikings will wear red, white and black for most of the season, but will change colours for the season-opener.
Coach Tim Sampson is building his squad and will cast his eye over the run to the John I Dent Cup finals to reward Canberra first-grade form with an NRC call up.
The Vikings Group has taken control of Canberra's NRC licence and will invest $1 million over the next four years.
The club will still have close links with the Brumbies and Super Rugby players will be given an opportunity to help develop the next generation.
"We've had a fair bit of planning going on behind the scenes," Sampson said.
"The heritage round is locked in and the players will be in a heritage-style strip. I still remember the 'Kookas' playing years ago - you can't replace history or ignore it.
"It's been a point of discussion from the Vikings Group so it's pretty exciting. And round one is on the same day as the ACT junior rugby finals, so hopefully there's some strong support."
Canberra's NRC team was formerly a three-way deal between the Vikings Group, the Brumbies and the University of Canberra. However, the Vikings Group has taken sole ownership this year.
Sampson, who doubles as the Tuggeranong Vikings coach, has emailed his John I Dent Cup rival mentors and asked them to put forward contenders for NRC duties.
Sampson will assemble a squad in the coming weeks to begin a training program in preparation for the start of the season, which begins just two weeks after the John I Dent Cup grand final.
The Brumbies will use the NRC to give players extended game time, including winger Lausii Taliauli. Taliauli injured his knee in January and was ruled out for the entire Super Rugby season.
However, he is set to make his comeback in the opening month of the NRC campaign.
"You only have to look at how even the Canberra competition is this year," Sampson said.
"Royals have been the form side and are unbeaten, but apart from that, there's a good spread of talent at all of the clubs.
"There's been a lot of discussion about the squad and training schedule. There will be a two-week break before round one, but there's a lot of discussion and planning already underway."
NRC DRAW
September 2: Canberra Vikings v Queensland Country at Viking Park, 1pm.
September 10: Canberra Vikings v Perth Spirit at Viking Park, 1pm.
September 17: Brisbane City v Canberra Vikings at UQ Rugby Club, Brisbane, 1pm.
September 23: NSW Country Eagles v Canberra Vikings at Bellevue Oval, Armidale, 1pm.
September 29: Canberra Vikings v Fiji at Viking Park, 7.30pm.
October 8: Melbourne Rising v Canberra Vikings at Frankston Park, Frankston, 1pm.
October 15: Canberra Vikings v Sydney Rays at Viking Park, 3pm.
October 29: Greater Sydney Rays v Canbera Vikings at TG Millner Oval, Sydney, 3pm.
Chris Dutton is the sports editor at The Canberra Times.