Cheesed-off Moore unloads on burger run
STEPHEN MOORE has blasted Kurtley Beale and James O'Connor's late-night visit to Hungry Jack's as ''unacceptable'' and said Ewen McKenzie's new Wallabies regime would need to address the pair's issues.
The ACT Brumbies hooker said their antics were a distraction before the Wallabies' ''biggest Test match in 10 years''.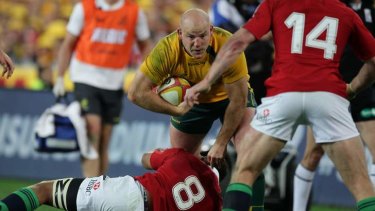 ''There's no doubt that we need to address those issues within the Wallaby group and it's not something that takes a long time to address,'' Moore told ABC Grandstand on Saturday.
''You just need everyone to be on the same page and everyone to know what's needed to be performing at the highest level and to be representing your country.''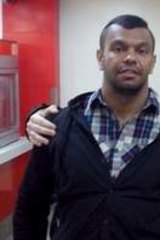 The controversial duo have been let go by the Melbourne Rebels, who decided against extending their contracts this week.
They were photographed by a British and Irish Lions supporter at 4am in the lead-up to the second Test in Melbourne, which the Wallabies won.
They also missed the team bus for a training session before the third Test.
The Wallabies coach Robbie Deans failed to punish either of them and both started in the decider. Deans was then sacked in the fallout from the 41-16 loss.
Moore, a 79-Test veteran, said he was frustrated that two key players were out early in the morning days before a Test.
''I think that's certainly not acceptable, when you're preparing for a Test match, to be out at 4am,'' he said.
''I can't see how anyone could see that as acceptable.
''It certainly was frustrating as a fellow member of the team, trying to prepare for one our biggest Test matches in the last 10 years.''
Both Beale and O'Connor have been dogged by controversy in their young careers.
Beale has struggled with alcohol issues and was stood down after punching two teammates, including captain Gareth Delve, while on the Rebels' tour of South Africa.
O'Connor missed the Wallabies' World Cup team photo after ''sleeping in''.
Neither was offered a new Rebels deal, with the club announcing on Saturday Beale would be following O'Connor out the door.
''We definitely [told them to pull their heads in],'' Moore said.
''The hard thing is that we're two days out from a Test match and I think you have to be really cognisant of the fact that a Test match takes priority and those kind of things are a distraction.
''You have to deal with them at the time, while trying not to distract the rest of the boys who are preparing 100 per cent for a Test match.
''They're the challenges that were going on at the time.''
Moore said it was up to new Wallabies coach McKenzie and the leadership group to make sure there wasn't a repeat.
The Brumbies vice-captain said living in Canberra had shown him exactly what it took to be an international athlete.
''I see athletes at the AIS [Australian Institute of Sport] and observe their commitment and dedication,'' Moore said.
''What they sacrifice to go to things like an Olympics or Commonwealth Games, without much financial reward, and they're a great inspiration to us who have it very good in many ways.
''You just need to understand that as a player.
''We're representing our country and there's a lot of things that come with that and a lot of responsibility and you've got to make sure you're doing everything right.''
David Polkinghorne covers the Canberra Raiders, local rugby league, Canberra Cavalry, racing and cycling, along with every other sport, for The Canberra Times.