Cheika will not rule out recruiting O'Driscoll
New Waratahs' coach Michael Cheika has not spoken with Ireland centre Brian O'Driscoll since taking the reins of the Super Rugby franchise a month ago but says NSW remain interested in the services of the British and Irish Lions captain.
The Irish skipper was quoted in the UK press, again talking of his desire to reunite with his former Leinster mentor Cheika in Australia.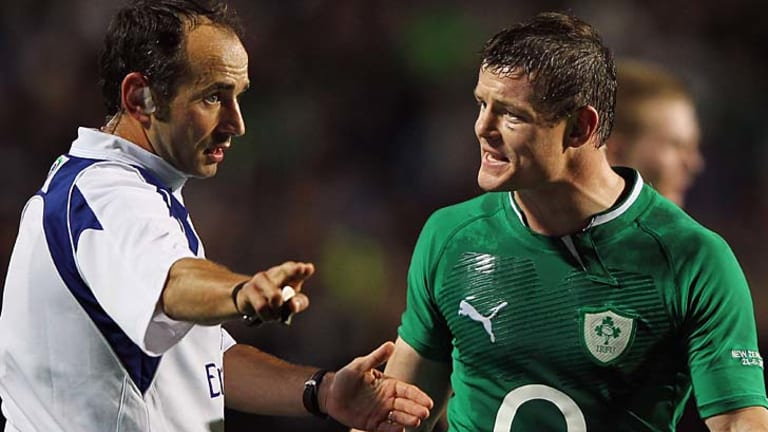 O'Driscoll's contract ends next June and he enticingly suggested he could join NSW after the Lions tour, saying "'Cheiks' has my number, so if he wants to get me he can give me a call".
But Cheika said he'd had no contact with O'Driscoll since officially taking over at the Waratahs on September 18.
"Obviously I know Brian very well. It is no secret that he is one of a number of top players over there who would love to come down and play in the Super 15," Cheika told AAP on Wednesday.
"I saw him before I left - I went to say goodbye. But we haven't spoken since.
"I wouldn't want to do that to him or the club. He is in the middle of a season, the Heineken Cup is still on and they are focusing on that.
"It is still my club and it is very close to me and I would not want to disrupt their season. That is Brian saying how he feels about things and what he might like to do."
Cheika's three-year mission to revitalise the ailing Wallabies kicked off on Wednesday when they began their pre-season training.
After a disastrous 2012, which ended in a record eight straight losses, the Heineken Cup-winning coach was upbeat about the season ahead.
The recruitment of South African halfback Sarel Pretorius as a marquee player was one of many black marks in the Waratahs' past season. But Cheika said the bad experience with Pretorius would not influence the Waratahs' thinking and that O'Driscoll's signing remained a possibility.
"It would be a big decision for him to leave Ireland but the thought is there with all the top players they would all love to come down and have a try - there is no doubt about that," he said.
"We don't have a marquee player ... and whether we would go down that road is something we would have to discuss."
AAP
Morning & Afternoon Newsletter
Delivered Mon–Fri.