Coach Ewen McKenzie left scratching his head as Wallabies take a break
Ewen McKenzie will go back to the drawing board after the All Blacks took a nine-inch nail to the bubble of optimism in Australian rugby in Auckland at the weekend.
The Wallabies' hopeful momentum from seven wins on the trot and eight Tests without a loss came to a screeching halt at Eden Park on Saturday, after a 51-20 humiliation at the hands of the World Cup holders. So much for the Waratahs' Super Rugby success. Australia's best players, many in career-best form, allowed themselves to be overpowered, overawed and outclassed by a New Zealand side with a point to prove.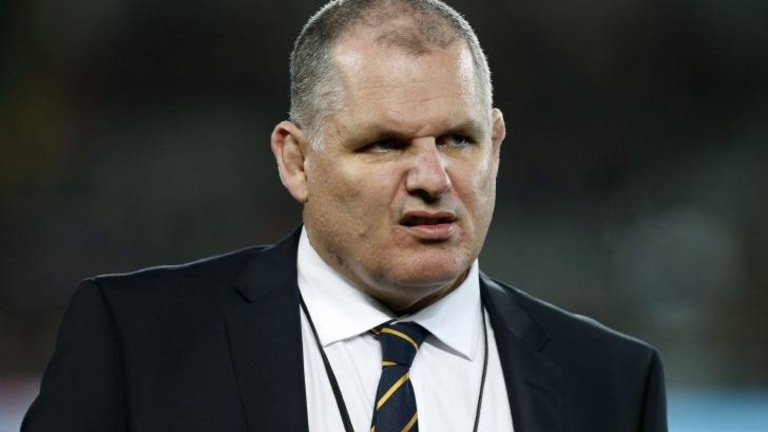 They left Auckland on Sunday bruised and battered, Nathan Charles in a sling with a suspected rib or pectoral injury and Pat McCabe in a neck brace. But the physical scars told just half the story.
This one – the All Blacks' highest score against Australia and their third biggest points differential – should stick in the craw, fuelling motivation for the get-square down the track. "You have to respond after that," McKenzie said. "We've enjoyed winning over the last period of time and we've been competitive, so it was a massive disappointment."
McKenzie acknowledged the Wallabies had "created expectation" and failed miserably to deliver, and did not rule out big changes for the next Test, against South Africa in two weeks.
"We'd created some expectation there and it wasn't like we came up short, we came up a long way short, so that's really disappointing," he said. "We have to turn it around. The All Blacks went out there, they were under a lot of pressure, and they responded. That's what we've got to do."
The Wallabies may be limited in their capacity to do so, after injuries have run down stocks in key positions, including hooker, wing and halfback. And while the defensive frailties were plain, there was so little time in attack it is difficult to say anything categorical about McKenzie's halves experiment. Nevertheless, the Australian coach did not rule anything out.
"You've heard me say selections are a one-game contract," he said. "You get a chance and you have to go out there and make the most of it. We don't tend to change things after one game but you like to see an improvement and I've already said there are good players missing out. I thought [centre Tevita] Kuridrani did a good job at the back end of the game, for example. There are players itching to get a go and we recognise that. We were getting the performances on the field until last night, so we'll have to take stock."
The Wallabies break for a week before flying to Perth on Sunday to begin preparations for South Africa. The Springboks survived a huge scare from Argentina in Salta to sneak a 33-31 win on Saturday, thanks to a penalty by replacement five-eighth Morne Steyn in the final three minutes. Despite New Zealand's masterclass in Auckland, their 12-12 draw with Australia in Sydney leaves them trailing South Africa by a point after two rounds of the four-nation Rugby Championship.
After three seasons in the competition, Argentina is still without a win, and will travel to New Zealand at the end of the week to play the blisteringly hot All Blacks. After reviewing the tape, McKenzie said the Wallabies gave their opposition several legs up into the game at Eden Park. "The bottom line is, when you go through their point-scoring, predominantly it's off turnovers from us," he said. "Their ability to play from turnovers was exceptional. We weren't able to capitalise in the same way.
"It's very frustrating because when you look through the set-piece stuff, we didn't get near executing the plan that we had and off turnovers, that's what they're good at.
"We were aware of that, but you have to be able to react to that and reorganise. The transitional defence is an important part of that and we didn't get it right."

Georgina Robinson is a Sports Reporter for The Sydney Morning Herald
Morning & Afternoon Newsletter
Delivered Mon–Fri.