Crouch, touch, pause, disengage - scrum blight set for the chop
The IRB has for some time been known as the Irrational Rugby Board, due to its fair share of dopey decisions over the years. Thankfully the IRB picked up their act this week with some crucial rulings, including improving the financial state of southern hemisphere nations hit hard by the World Cup. Following years of lobbying, the Australian Rugby Union has succeeded in securing from the IRB a higher distribution from World Cup revenue, receiving a $16 million plus windfall over the next four years. For the rugby punter, there is also good news. Law trials and proposals include the abolition of ''pause'' in the infuriating ''crouch, touch, pause, engage'' rigmarole before every scrum, the video referee having wider powers, an extra front-rower allowed on the bench, the ball having to be used within five seconds of it being available at the back of a ruck, while a conversion must be completed within 90 seconds of the try being awarded. That's more like it.
IF THE CAP FITS …
There continues to be a Mexican standoff between the ARU and the Rugby Union Players Association over the collective bargaining agreement. But there is some hope the proposed salary cap of $4.1 million per Australian province may be increased following the ARU's financial victory with the IRB. RUPA boss Greg Harris said yesterday: ''We congratulate [ARU chief executive] John O'Neill for the work he has done at IRB level in improving the level of funding, because the organisation has been forced to endure some duress. Hopefully that will release some of the pressure, and due to that hopefully we can get our issues resolved.''
GONE QUIET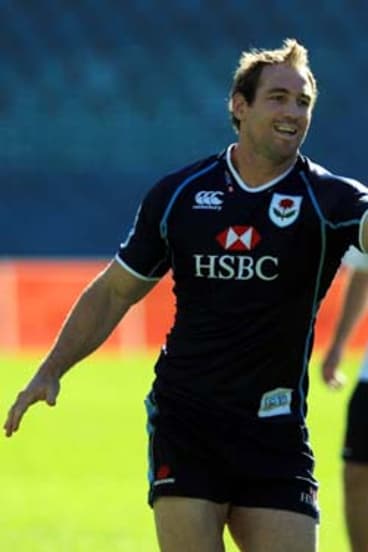 Perhaps it's a coincidence, but after the Waratahs lost their third straight game when beaten by the Bulls we visited their website to check the wording of the team song, which is belted out after every win. All week we haven't been able to connect to their ''Waratahs team song'' section, because according to the site it ''could have been removed, had its name changed or is temporarily unavailable''.
FULL SERVICE
Peace in our time. After the brain explosions and buck-passing which followed our item two weeks ago, where former Australian Rugby Union boss Bruce Hayman complained about the service at a NSWRU life members gathering at a Waratahs game, it is pleasing everyone is palling around again. Apparently the life members function at last weekend's match was an absolute cracker. Hayman reported: ''The atmosphere was very good, the staff were excellent and there was no waiting for service. The food service was good and the food hot.'' Now we can all get some sleep.
BOK BIO BOOK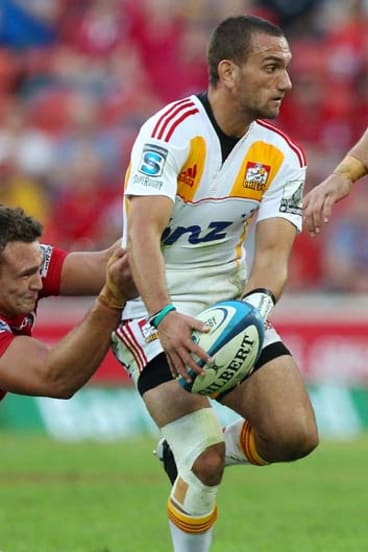 The rugby world is on tenterhooks.
A biography of that wacky former Springboks coach Peter de Villiers is due to appear in June. Proposed titles include I Love Myself a Lot, There is Little Difference Between Winning and Losing Except You Feel Better after Winning, I'm a God-Given Talent, I Know What I Am and Don't Give a Damn, We Went Wild, Wild, Wild - Some of the Guys Went Wilder Than That and I'm Going to Pull a Rat Out of the Hat. And the best commentary line of the week goes to New Zealand's Scotty Stevenson, who said: ''Aaron Cruden has been busier than a one-legged river dancer.''
NO STARS OUT
Sydney clubs are worried they may not have their star players for the premiership finals. With the Super Rugby season going on forever, and interspersed with Test matches, there's not many chances for the rep players to appear for their clubs. And the Sydney Rugby Union has stipulated representative players must appear in at least two grade games to qualify for the finals.
RUMOURS OF THE WEEK
■ Australia's most notorious serial offender official keeps getting himself into trouble. He is being discouraged from attending training sessions, while a recent expenses claim has been sent back because it involves strange casino debts and odd telephone calls.
■ What high-profile Australian rugby figure asked for $40,000 to attend a function in Britain before next year's Lions tour? Sunset Boulevard or what?
■ An Australian province is training very hard, prompting players to privately describe their sessions as ''Robben Island''. That's where Nelson Mandela was imprisoned off Cape Town. And no, it's not the Waratahs.

Greg Growden is Chief Rugby Correspondent for The Sydney Morning Herald
Morning & Afternoon Newsletter
Delivered Mon–Fri.