Deans calls for Super player rotation
WALLABIES coach Robbie Deans has called on the Super Rugby franchises to begin rotating Test players to save Australian rugby from the unprecedented ''carnage'' wrought by injuries this year.
Deans has used 40 players in 11 international matches this year - the highest of the SANZAR nations - and is staring down the prospect of further injuries with four Tests to play in Europe this month.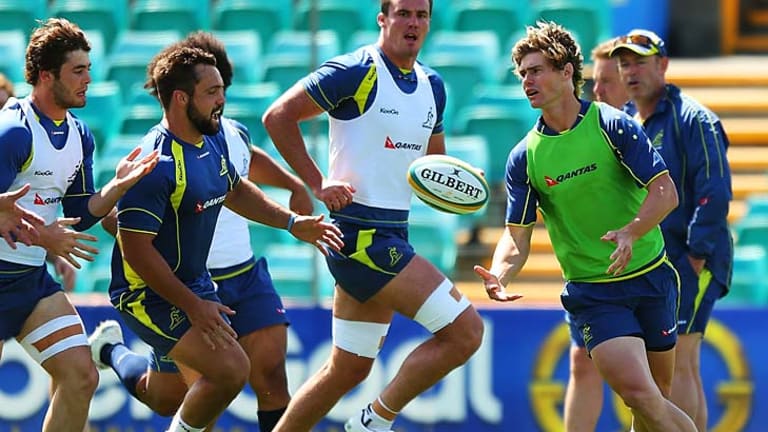 The case for the provinces resting their Wallabies players during the Super Rugby competition was put by the ARU to a nationwide coaches and chief executives meeting at ARU headquarters in Sydney last week.
Deans publicly floated the proposal at a media opportunity in Paris this week, where the Wallabies are preparing to face the French.
''It has to happen, and that's what we're spending a lot of time discussing at the moment,'' he said. ''Just the fact that the Irish have won more Heineken Cups than anywhere else and New Zealand's won more Super Rugby titles than anyone else and those two groups are the ones that are rotating their international playing group. It's not just the international side, it's the franchises that are thriving.''
Ireland restricts its Test players to playing six out of every eight provincial matches, Deans said. New Zealand's rotational policies are well known.
Australia's Super Rugby teams are far less blessed with depth than their trans-Tasman rivals and the Western Force this week announced its third international signing, while the Rebels are still allowed up to 10 foreign players on their roster. A proposed trade off for agreeing to rotate Test players is giving the provinces access to more players.
''The irony is, the moment you give [playing] access to your whole playing group, your whole playing group lifts, because they know they're going to get an opportunity to prepare on that basis and it becomes vibrant, you get competition, standards lift, you get more enthusiasm,'' Deans said.
''Whereas when you flog the same group all the time, they lose enthusiasm and so does the chasing group. then you pick up injuries, the chasing group aren't ready to go, everything falls over.''
Deans said he expected ''discussion'' and a hard sell to the provinces but cited Waratahs coach Michael Cheika as someone who coached under the Irish system at Leinster.
''There's always fears but they don't generally reflect the reality,'' Deans said. ''We've got to recognise what's in the best interests of the playing group and adapt, otherwise nothing changes in the way we prepare and the way we manage our group, nothing will change and the [injury] trend is alarming.''
South Africa has used 38 players and New Zealand 33 in its 10 Tests this year.
Reds hooker James Hanson became the 40th player to don the gold jersey when he was called in as back-up for Tatafu Polota-Nau following an injury to Saia Faingaa. Prop Paddy Ryan would be the 41st Wallaby to play this year if Australia had further injuries to the front row.
''In terms of international rugby this is the first time in 11 years that I've encountered this sort of carnage,'' Deans said. ''It saps your energy because you've got to reinvent the wheel and structure your game to suit the people you've got available.
''The good thing that will come out of it is that we'll end up with … a large playing group, that's been exposed to international rugby and done well at an international level.''

Georgina Robinson is a Sports Reporter for The Sydney Morning Herald
Morning & Afternoon Newsletter
Delivered Mon–Fri.