Departing Rebels see a bright future for club
THEIR careers at the Melbourne Rebels are coming to an end, but former Wallabies Julian Huxley and Alister Campbell believe they will be leaving the fledgling Super Rugby club in strong shape.
Huxley will head to French second division club Narbonne, which is coached by his former Brumbies teammate Justin Harrison, while Campbell will retire.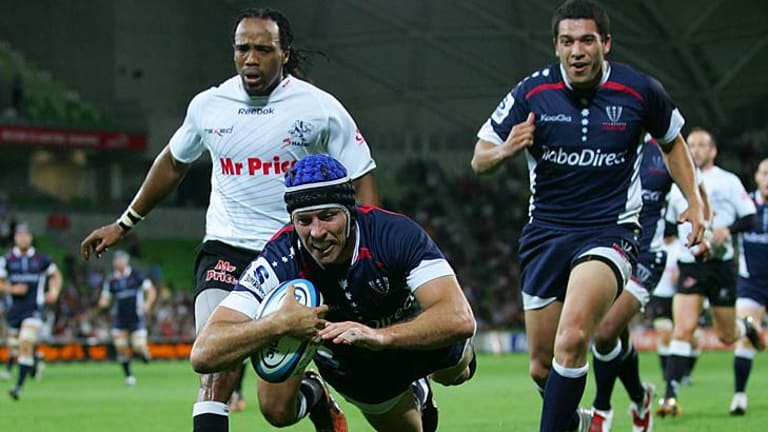 They will join foundation players, such as Stirling Mortlock and Michael Lipman, who are both retiring, to leave the club at the end of this season.
Huxley, who made a remarkable comeback to his career in 2010 after brain surgery to remove a tumour two years earlier, said he would have liked to continue with the Rebels but understood their desire to blood new talent. He said it also gave him the chance to finish his career on a less competitive note.
''It's time to have some fun and enjoy the travelling opportunities that rugby gives you,'' the 32-year-old said. ''I never did that when I left school. As a kid I chased my contract rather than go travelling like most young kids do, but it's time to see a bit of the world.
''Although I wasn't wanted here next year, it probably didn't alter what was going to happen anyway, because I was looking to have that international experience and have some fun with my rugby while I'm still playing some good footy. I think I've got a lot to offer still and I want to go somewhere and be a contributor rather than a liability.''
Huxley said the Rebels had shown this year that they could develop into a strong Super Rugby club.
''There's glimpses of a great future there,'' he said. ''When we get it right we can beat any team. We're not a team that struggles and beats a couple of the lower teams, we're trying to play a type of footy that can win titles. When we get it right we will beat anyone, so that's a positive for the club.''
Campbell, 32, who will have surgery for neck and shoulder injuries at season's end, said he would remain in Melbourne with his family in the short term and be happy to act as a mentor to the Rebels' emerging talent Hugh Pyle, Cadeyrn Neville and Luke Jones.
''We've got some with real firepower now in that position and it's great to see those guys doing well and, if I'm around, I'm happy to be a sounding board for those guys if they need any suggestions or anything like that,'' he said.
Morning & Afternoon Newsletter
Delivered Mon–Fri.