Ewen McKenzie refuses to bite over Steve Hansen's comments on Kurtley Beale
Ewen McKenzie has poured cold water on provocative comments from All Blacks coach Steve Hansen questioning his rival's selection of Kurtley Beale at five-eighth for the opening Bledisloe Cup Test.
McKenzie said he "would not dignify" Hansen's musings that McKenzie had been pressured to dump incumbent No.10 Bernard Foley in favour of Beale to head off the off-contract playmaker's rumoured move to rugby league.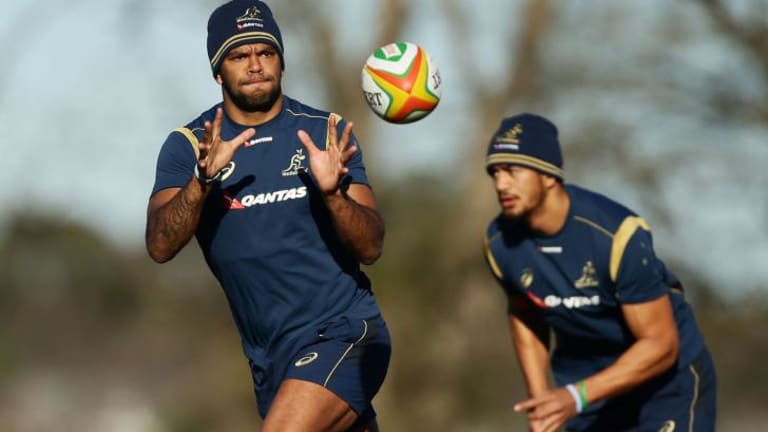 The Wallabies coach, speaking on panel show Rugby HQ on Thursday night, said he and the coaching staff had picked a team they believed could beat New Zealand.
"I wouldn't dignify the comment," McKenzie said.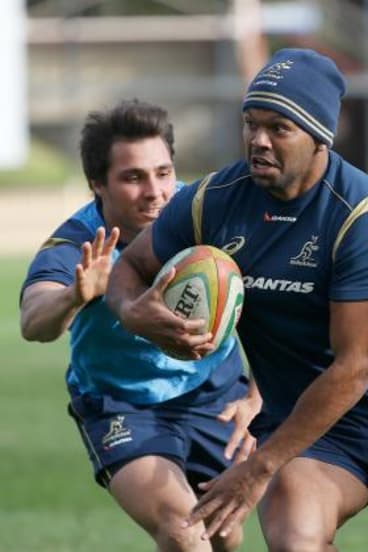 "I picked the team to play the All Blacks, to beat the All Blacks. That's what I picked the team to do.
"I go about the process of selection like every other game and we picked what we believe is the right combination to do the job."
Hansen was in vintage form earlier in the day, firing a few trademark barbs the Wallabies' way as his side prepared to fly to Sydney for Saturday's match at ANZ Stadium.
"I was a little dumbfounded by it initially," said Hansen, firing his first shot across the bows of an Australian team he's never lost to since becoming head coach. "I thought 'why would he [Ewen McKenzie] do that?' and came to the conclusion that maybe Ewen doesn't trust [Foley] to be able to do what he wants against us, or if you really think about it, the other guy [Beale] is under contract and league are chasing him, so you might start thinking maybe the ARU have told him he's got to pick him.
"But it doesn't matter why he has, both of them are really good rugby players, and Kurtley is certainly a guy who loves to do things differently. He'll throw a lot of inside balls to runners, and we're going to have to make sure we look after that part of the park, particularly from second or third phase play. When guys are struggling to get into position, he'll be dangerous.
"He's not as good a goal-kicker as Foley, but I guess he'll bring Foley on late in the game and if they want a goal-kicker they've got the right one on at the right end of the game."
When asked if he really thought McKenzie was put under pressure by the ARU to pick Beale, Hansen said: "I don't know. You'll have to ask him that question."
But wasn't Hansen making that assertion?
"No, I'm making an assumption which is different than an assertion. I'm not saying that's what happened, I'm just sitting there pondering why wouldn't you play Foley when he's played there all year?
"The other guy has played seven Tests, at most, in his whole career at first five so why would you change that? Being the people we are, we go from one extreme to the other.
"I'm not saying that's exactly what happened, it's just a thought that came through my head and I'm sure it's come through a few other people's."
Wallabies Nic White and Matt Toomua laughed off the remarks.
"I don't know what his motives are there, but it's obviously interesting and a bit of a conspiracy [theory] I guess," halfback White laughed. "But why not plant the seed? If I was him … why not?"
White conceded Beale's selection "was a little bit of a surprise … a pleasant surprise," but when asked earlier how the Wallabies squad took in McKenzie's selection of Beale over Foley, he said: "Excited for Kurtley because everyone knows how hard he has worked and where he has come from the last two years … really excited for Kurtley. And as a group [we] shared disappointment for Bernard. That's the strength of this group at the moment.
"We are not just a team effort, [but] a squad. You have to get around Bernard.
"You obviously feel his disappointment, but at the same time [you] share the ride and the excitement with Kurtley. Mixed emotions there, but you feel for both of them."
Toomua, who will start Saturday's Test in the No.12 jersey, said: "I don't know what to say really. 'Link' [McKenzie] has picked him and has full confidence in him. I doubt it would be that [to keep Beale in rugby union], but we have full confidence in Kurtley playing there as we would with Bernard."
Toomua reminded that during the French Test series in Australia in June he, "had a bit of time with Kurtley and with Bernard playing with them in 10 and myself at 12.
"So, I guess it wasn't just a blank slate [Beale] coming in here. We have had that history there, so that helps me personally and obviously Kurtley."
Toomua also agreed it helped knowing Foley might be able close out the match should it look like being tight – with a penalty kick or conversion deciding it.
"Definitely. He has shown he can kick under pressure. And I think he has got that experience there," Toomua said.
"Having a guy like him on the bench shows the calibre of players starting but also we have genuine depth there, even with a guy like Quade [Cooper] injured."
Morning & Afternoon Newsletter
Delivered Mon–Fri.