Foley's Tahs fate hangs as Force weigh options
Whether the Waratahs make dramatic changes to their coaching staff could be determined by who the Western Force recruit as their head honcho next season. While at least two Waratahs directors recently have been asking outside influences - even stopping them in the street - for their thoughts on whether Michael Foley should stay as Waratahs coach after losing the past six matches, the Force are close to deciding who will replace Richard Graham. Our snouts tell us that on the Force shortlist are Scott Johnson, Todd Louden, Brian Melrose and Michael Cheika. Even an edgy Australian provincial coach has contacted the Force offering his services. Johnson has solid credentials but we understand that Cheika has very strong player support in Perth. But there also are many in Sydney keen on Cheika, and he has the backing of several Waratahs players. One has even made it known he will leave the Tahs if Cheika does not become head coach. Whether Cheika is the next Waratahs coach will hinge on next week's meeting involving Foley and Waratahs heavies. Also who ends up Force coach will have some influence on whether their star player and captain David Pocock stays in Perth or goes to Canberra next year.
Uncool in the crisis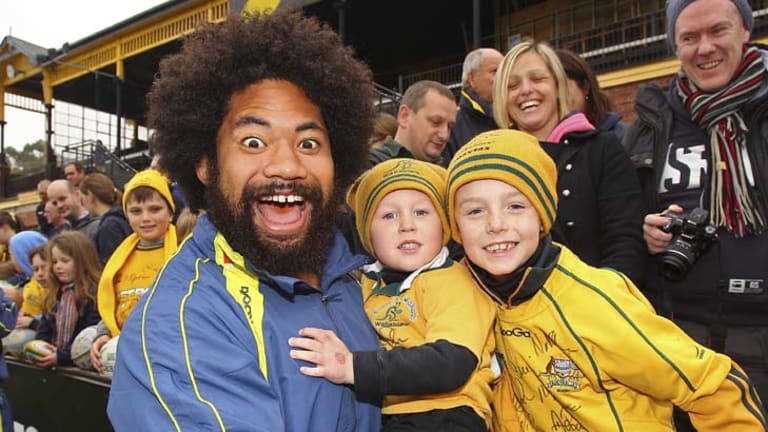 Several Waratahs heavies are getting very edgy that many members of the Sydney media are keeping the heat on them and a constantly losing team this season. This has even prompted one understandably nervous NSW nellie to call for a concerted public relations campaign - even suggesting those in the press corps who've had the temerity to criticise the administration for its failings should be ostracised and placed in a ''leper community category''. At least some at Moore Park are pleading not to go down the ''non-accreditation'' path. And despite what is being spun from the few still at head office, the Waratahs are not happy campers. There is division. Team officials are being targeted, major positions are under threat and the relationship between the Waratahs and head office is not healthy. Paranoia reigns.
The Afro airbag
The reason why Wallabies hooker Tatafu Polota-Nau keeps knocking himself out? According to Wycliff Palu, it may have something to do with his hairstyle. In tomorrow's Test program, Palu explains Polota-Nau goes ''at a hundred miles an hour'' because ''he believes his Afro is an airbag''. Still, you have to admire Polota-Nau for playing in last weekend's Test as he was very ill on match day with a virus. As fellow front-rower Sekope Kepu put it: ''At half-time he was hugging the bowl.''
Loo with a view
Those in charge at Allianz Stadium want to keep the punters happy at tomorrow's Wallabies-Wales Test. In the second floor members area, four toilets have been fitted with television screens, so when nature calls fans can keep in touch with on-field action. Also a free SCG Trust phone app will help fans access the latest live transport, parking and venue information on Test day. There's also a pre-Test fan day at the SCG.
Trojans hit a snag
It's that time of the year when footy clubs raise funds for end-of-year-tours. You must sympathise with the Terrigal Trojans under 16s who organised a sausage sizzle that coincided with the big wet. As the torrential rain hit the coast, the Trojans struggled to suck in the hungry and sold only 16 sausages for the day. That included five they ate themselves.
Rumours of the week
■ The antics of the serial offending provincial official known as Radio for his big mouth continue. He is now expected to be forced to move on because of concerns over money repayments and incriminating evidence involving a Super 15 player.
■ An Australian province seriously considering replacing its CEO has been sniffing around a well-known rugby identity. However this identity has shot himself in the foot big time with unsavoury remarks on his Facebook page relating to a high-profile Wallaby. Surely the province could not even think of inviting him past the front door, especially as that player is in its team.
■ The deep divide between the Waratahs and the ARU remains with some interesting manoeuvring going on and strange allies joining forces. The ARU corporate governance review, where NSW will lose a lot of their power, is causing concern at Moore Park. Some would-be emperors are discovering their base is diminishing.
Morning & Afternoon Newsletter
Delivered Mon–Fri.