How Beale grew into No.10 jersey
Kurtley Beale takes another step in his transition to five-eighth in the first Test of the tour, writes Georgina Robinson in Paris.
IT has taken three years to get here but Kurtley Beale is fulfilling the vision he and Wallabies coach Robbie Deans had for him as Australia's chief playmaker.
After an apprenticeship playing off instinct at fullback and a shaky entree to the Wallabies No.10 jersey two months ago, Beale is finally humming at five-eighth.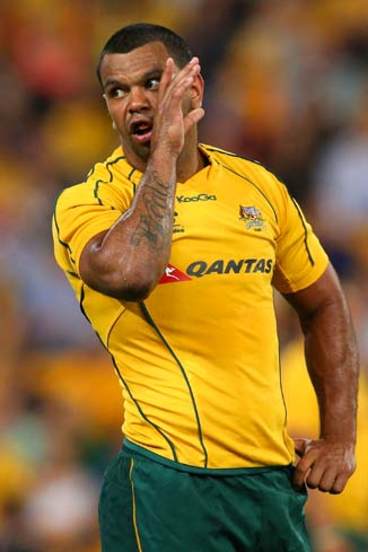 Deans, the man who moved him up the very back even as NSW were using him in the halves, could not hide his satisfaction with Beale's fledgling mastery of the role.
''He's been great,'' he said. ''The biggest requirement for Kurtley, as distinct from fullback, is that he's the hub of everything, so he's got to not only drive it in-game but essentially do preparation.
''There's a lot involved in that, there's a lot of communication with the whole group and he has to be around and on top of the detail … I think he found it hard work early because it is a different requirement, but he's in the groove now.''
Beale has kept a low profile in Wallabies camp in the lead-up to the Test against France.
There is a sense he wants to prove himself further in the role before being asked to talk about it.
It has been a long and windy road to this point. A year after his Wallabies debut Beale was used at five-eighth in the Australian Barbarians side that played England in 2010.
But the presence of Quade Cooper, Berrick Barnes and James O'Connor in the squad, as well as Beale's electrifying impact at fullback, kept him at No.15 for the rest of the year, while injuries to himself and others last year delayed further Deans's plan to introduce him at No.10 last year.
The carnage continued after the Rugby World Cup but this time it gave Beale his opportunity. He took over five-eighth from an injured James O'Connor at the Rebels after coming back from injury, and Cooper's misfortune gave Deans the chance to start the transition in the national team.
Beale's fitness and confidence have skyrocketed since he was dropped to the bench early in the Rugby Championship, and the France Test match, the first of four on the spring tour, is another step in what Deans sees as a promising future.
''The expectation in many ways was probably that he would always end up there [at No.10], but he's certainly benefited from his time at the back at fullback,'' Deans said. ''[Beale and halfback Nick Phipps] are hearing each other and I guess having played together at franchise level is an advantage, but they're now getting some time under the belts at international level and that always settles blokes.''
Beale will be pitted against veteran French playmaker Frederic Michalak, a surprise selection at No.10 after playing at halfback for much of his time at Toulon.
French coach Philippe Saint-Andre has stayed true to his word and named a team based on a policy of regeneration but has also invested in experience in key positions. Brice Dulin will start at fullback and Wesley Fofana on the wing, while Maxime Machenaud was given the nod over Morgan Parra at halfback.
''There's obviously some interesting selections there but, to be frank, personally I don't dwell much on those permutations, you know that all those decision have been made for good reasons,'' Deans said.
''Michalak coming back to No.10 is obviously an interesting decision but he's a class player and he's playing good rugby.''
Michalak, 30, has only recently returned to France after playing Super Rugby in South Africa. He has not played for the national side since the 2007 Rugby World Cup.
''Maybe that's part of the motivation, maybe they feel that [the Super Rugby] background he's had gives him a point of advantage against a southern hemisphere team,'' Deans said.
Georgina Robinson is the chief rugby reporter for The Sydney Morning Herald.