If a tweet becomes more relevant than rugby itself, we have a problem
We'll let Hurricanes chief executive Avan Lee kick off this week's Super Rugby wrap.
"There was a guy who was red-carded last night for a poor act. I don't think we should be talking about a tweet," Lee said in a radio interview on Saturday.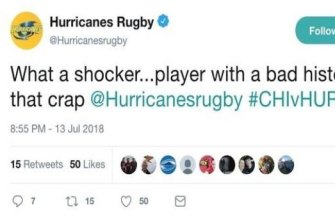 There's a few things to unpack here.
First, the Hurricanes' Super Rugby season is staggering towards a humiliating and premature end. That's the most pressing issue for Lee and the team.
Then there's the health of centre Wes Goosen, who copped a shoulder to the head from the Chiefs' Johnny Fa'auli on Friday night. Fa'auli was sent off and rightly so.
As Hurricanes coach Chris Boyd said afterwards: "If that wasn't a red card, there isn't a red card."
Goosen was only a few weeks into a comeback from a broken jaw, sustained against the Chiefs in April, and thankfully didn't suffer another fracture. But he was groggy and sore and failed his Head Injury Assessment.
Last, and by all means least, comes the tweet Lee referred to. It came from the Hurricanes' official Twitter account and read "what a shocker... player with a bad history of that crap".
As Lee said afterwards, it was a regrettable thing to post. He used words such as "inappropriate" and "unacceptable" and promised that the Hurricanes would not make the same error again.
However, Lee also said he was just as angry and upset as the person who wrote the tweet. He argued that anyone would be, if they had just watched a staff member laid out in the fashion Goosen was.
What would it have taken for the injured party to become the primary concern? Maybe a bit of blood or some sign that his jaw was shattered?
But, as Lee noted at the top, it was the tweet, and not the health of Goosen or the actions of Fa'auli, that was the talking point afterwards.
From this distance, you wonder what would it have taken for the injured party to become the primary concern? Maybe a bit of blood or perhaps some sign that his jaw was shattered? After all, it's just dumb luck that Goosen wasn't more obviously wounded.
It's a bit like Beauden Barrett's spectacular tumble, in New Zealand's June test against France. Would it have taken Barrett to be seriously injured before people stopped whinging about referee Angus Gardner showing France fullback Benjamin Fall a red card?
Rugby has to be in pretty rude health for tweets, and the fine print of World Rugby's law book, to be the priority.
Stuff