Lealiifano in no hurry to join depleted Wallabies
HE WAS the most dynamic Australian playmaker this year before injury ended his season, but Christian Lealiifano says he's not ready for a comeback even if Robbie Deans sends him an SOS.
The Wallabies' flyhalf worries took another hit last week when Quade Cooper was ruled out with a knee injury, with James O'Connor already on the sideline.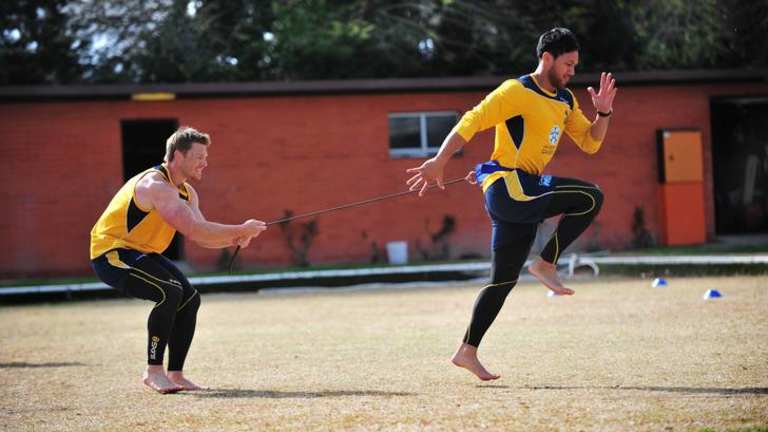 The sight of Lealiifano and Matt Toomua at ACT Brumbies training would have warmed Test coach Deans's heart when the two started running after serious injuries.
But if Deans is hoping they can help ease the playmaker woes and fill the Wallabies' No.10 jersey, he'll have to wait.
Had Lealiifano's outstanding Super Rugby season not been cut short by a dislocated ankle four months ago, he would have almost certainly won selection in his first Wallabies squad.
The Australian player of the year award was proof of his stellar form. Despite missing six games, he finished just one point behind winner Will Genia.
The 24-year-old is still determined to break into the Wallabies set-up. However, he doesn't want to rush back earlier than his scheduled return in December to avoid further problems.
''I just want to get back in the mix and I finally feel like I can start running again … not being able to train has been frustrating,'' Lealiifano said.
''They've said my ankle is going to be niggly coming back because of how serious it was, but it's mental and you've got to try to push through.
''You never know with the Wallabies. I was happy with my form.
''I've never really thought about me being there, I've just got to come back better.
''If you think about [Wallabies] that will frustrate you more, so I haven't thought about it.
''But even if Robbie mentioned it, I don't think I would rush back because you don't want to do it half-hearted and not be the player you were before you were injured.''
Toomua started the Brumbies' season as the first-choice flyhalf.
But he ruptured his anterior cruciate ligament in April and has been on the sideline training by himself since.
He admitted to nerves when he finally rejoined the team in a field session and after playing just nine games in the past two seasons, Toomua will likely go to the United Kingdom in November and return in January to chase game time before the Super Rugby season.
The thought he could have been in Wallabies contention had he not required a knee reconstruction has crossed Toomua's mind.
''It's exciting [to be back] and I was really nervous before a normal skill session because it's been so long since I've been out there with everyone,'' Toomua said.
''I'd be lying if I said [the Wallabies flyhalf injuries] hadn't crossed my mind, it's only natural to join the dots.
''If you're thinking about who would be in a Wallabies jersey right now, Christian would have to be there in my opinion, so it's good to see him back.
''But I was just looking forward to playing a full season. I'm still trying to get some confidence back and hopefully I will get that in the UK if we sort that out.
''I'm dying to play … I just want to get out there and see what happens.''