Lealiifano to ignore laser diversions
Wallabies goalkicker Christian Lealiifano is confident he will be able to ignore laser lights if they are directed his way when Australia plays Argentina in Rosario this weekend.
Lealiifano has no experience of the controversial practice, now associated almost exclusively with Argentine crowds, that prompted the referee to give All Blacks five-eighth Aaron Cruden a second crack at converting Julian Savea's opening try in La Plata last week.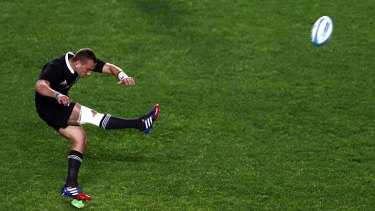 But the Brumbies sharpshooter says he has enough faith in his kicking process to block out any beams shone from the stands at Stadio Gigante de Arroyito.
''I don't really worry about it too much,'' Lealiifano said. ''I guess you have to try and block it out visually. I have a certain target on the ball that I look at and concentrate on the most, because that's my target area and striking zone.
''If the laser is around that area it might distract me, but if I stay focused on that, hopefully nothing else goes wrong.''
The 23-year-old made his Test debut this year but is emerging as one of the coolest heads in the game, kicking 27 from 32 for the Wallabies with a success rate of 84.37 per cent.
Where Welsh kicking prodigy Leigh Halfpenny brings coach Neil Jenkins on to the pitch behind him while he kicks, Lealiifano prefers to take a hands-off approach.
He manages just two dedicated training sessions a week owing to a small fracture in his right ankle, which could require surgery at the end of the year.
Lealiifano said he liked it that way, preferring not to over-think or over-talk his process or the possible effects of laser beams on the ball. During games he also keeps it simple, ruling out the Halfpenny-Jenkins approach in favour of something a bit lighthearted.
''[Strength and conditioning coach Scott Murphy] usually brings out the tee and we talk about other things, whether he's seen a good looking girl in the crowd or 'where's the water' or what the coaches are saying.''
Georgina Robinson is the chief rugby reporter for The Sydney Morning Herald.