New Brumby stands by career-defining gamble
When Brumbies recruit Josh Mann-Rea snapped his anterior cruciate ligament last week, he feared his overdue shot at top-level rugby could be over.
And it's why he rates his decision to undergo ligament augmentation and reconstruction system (LARS) surgery as a ''no-brainer''.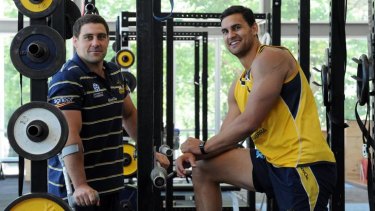 The hooker admitted on Tuesday it was a massive risk to undergo the controversial procedure after his knee gave way at training early last week.
But the extended player squad member insists it's a calculated gamble he had no choice but to take.
At 31, the former Australian under-21 representative couldn't afford the ninth months of rehabilitation required of traditional surgery.
''It was the only option for me. I thought personally, I couldn't afford to miss this whole season,'' Mann-Read said.
''There a bit of controversy about it [LARS], but I definitely think it's a risk worth taking in my situation.
''If I miss the whole season, it could be the end of my career anyway.
''Hopefully I can be back in four months and only miss a few games at the start. The surgeon was confident with my knee and how it would respond to the LARS.''
After a long stint in Japan, Mann-Rea played two matches for the NSW Waratahs last season after answering an SOS from the club.
He admitted he was shocked at the extent of his injury after going down in a seemingly innocuous training incident.
''I got up and walked it off, and thought it'd surely be a lot sorer if I'd done something more permanent,'' he said. ''I've never really had an injury my whole career and the last five months I've had surgery on my hand and now this. Hopefully it doesn't happen in threes.''
Fellow extended player squad member Jordan Smiler is also tracking well after shoulder surgery.
A blindside flanker who played for Norths last year in Sydney's Shute Shield, Smiler is relishing the chance to learn from the Brumbies star-studded pack.
''When I first moved down here my dad asked what it's like to be alongside guys like [David] Pocock, and it's awesome,'' he said.
''You watch what they do at training and it's all by the book, all the little things you can take note of and add to your own game.
''Hopefully the shoulder will be ready by the end of January and I'll get a pre-season game in before the season starts.''
Meanwhile, John I Dent Cup strugglers Easts have received a huge boost with six Brumbies, headed by Pocock and Clyde Rathbone, allocated to the club for next season.
Easts failed to win a single match this year, and Brumbies coach Jake White hopes the move will allow them to compete with the competition heavyweights.
''A guy like David is probably not going to be beneficial from a playing point of view, but there's no reason why they won't be there promoting the club and get some grass roots rugby going,'' he said. ''At least they'll be affiliated with the club and have the opportunity to go to training and encourage the players there.''