NRL blocks Brumbies' Buderus coaching move
The NRL has quashed any hopes Danny Buderus had of joining the ACT Brumbies as a consultant coach by saying they cannot see how the proposal can go ahead.
Just hours after wearing a Brumbies shirt and being introduced as the collision coach for the Super Rugby franchise, the NRL has blocked his move to the rival code.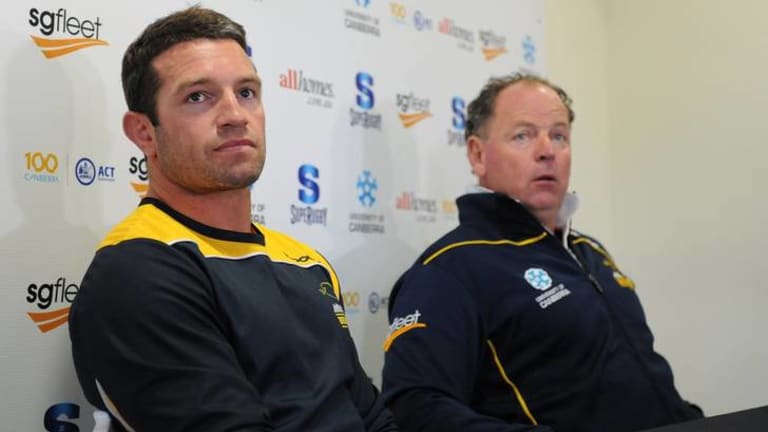 Buderus has one year left on his playing contract with the Newcastle Knights.
However, the rugby league great was keen to begin fast-tracking his post-playing career with a stint as a consultant for the Brumbies.
The Canberra Times phoned the NRL this morning and asked if they had cleared Buderus the deal, but officials were unaware of the cross-code link.
In a statement this afternoon, interim NRL chief executive Shane Mattiske said:
''Neither Danny Buderus nor the Knights have sought permission from the NRL to enter into a third party agreement as his playing contract requires and as the club is required under the salary cap rules,'' Mattiske said today.
''It is hard to envisage any circumstance where an agreement could be approved that allowed a current NRL player to promote another code competing in the same market as an NRL team.
''The announcement today which saw Danny at a press conference in another code's training gear underlines potential issues.
''We will be seeking an immediate response from the Knights and as much as we respect Danny's intentions we do not see any way in which the proposal can be pursued.
''In conjunction with the RLPA we provide a range of specialist services to assist players in maximising off-field careers and these are all available to Danny and all players.''
The Brumbies said they would not fight the NRL to keep Buderus if his coaching job jeopardised his playing career.
It is believed to be the first time a current rugby league player has taken a job in a rival code despite numerous former NRL stars coaching in rugby union.
Despite the Knights knowing about a deal with the Brumbies, the NRL was kept in the dark about the proposed move to link with South African World Cup-winning coach White.
Buderus was supposed to be the Brumbies' collision coach, working with the players one day per week during the pre-season and on a consultant basis when the NRL and Super Rugby seasons kick off.
Prior to learning of the NRL's stance, Buderus was upbeat about taking on an NRL playing and rugby union coaching role.
''It will be fine, I've got things in place, I've got a supportive club in Newcastle,'' Buderus said this morning.
''First and foremost I'm a rugby league player and Newcastle Knights player. I love that club and always will.
''I love the game and always will. It's [the Brumbies job] just a consultancy role to progress in some capacity after football.''
As part of NRL protocol, Buderus should have applied to the NRL for a third-party agreement. The NRL spokesperson said he was not aware that one had been received and it was unlikely that such a request would be approved.
Buderus - who has never played rugby union - earlier said the opportunity to begin a coaching career was a chance too good to pass up.
''Wayne's [Bennett] really supportive of that and knowing what you can do with life after footy,'' Buderus said.
''It's not a betrayal [of rugby league], I hope it's not out there with the rugby league and rugby union thing ... I don't think there's too much animosity there.
''It's just a coaching thing and hopefully I can benefit these guys. I'm looking forward to the challenge and I'm lucky to be here.''
The Canberra Times understands the Knights were made aware of the deal yesterday, but they released a statement this afternoon declaring they did not know the finer details of the contract.
Brumbies coach White played down a war between codes and praised the Knights for allowing Buderus to work with the two-time Super Rugby champions.
It is understood Australian Super Rugby players would not be allowed to strike a similar deal with an NRL club because of details in their rugby union contracts.
The ARU does not have a say in who the Brumbies recruit as coaches.