O'Connor and Beale to renew the dazzle
James O'Connor says he and Rebels teammate Kurtley Beale are out to put on a show for the Melbourne Super franchise having come through his first match in seven months after recovering from a hamstring injury.
O'Connor said he backed up well from Saturday's 24-16 loss to the Waratahs at North Hobart Stadium - his first game since being sidelined by the injury last year. He is now to resume the role switching between fullback and five-eighth that he shared with Beale at the Rebels last season.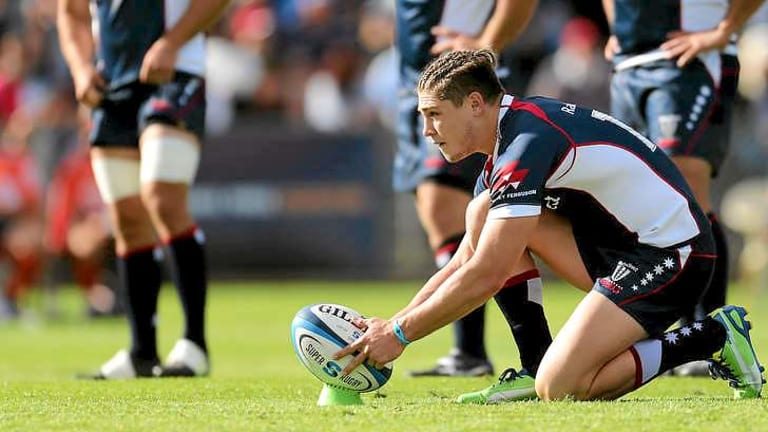 Beale did not play against the Waratahs on Saturday. Coach Damien Hill rested him because of his arduous workload last year.
But when the Rebels play the Hurricanes at Geelong on Saturday, O'Connor and Beale are likely to play alongside each other and the plan is to entertain.
O'Connor said the pair would switch roles from five-eighth to fullback throughout the season.
''As much as they call it No.10 and No.15, the way me and 'KB' will be playing is that whoever is closest to the ruck will control that phase,'' he said.
''I like playing off KB … he can take a ball to the line [like] not many players can. I love running inside and outside of him. He creates time and space.''
O'Connor played 40 minutes of Saturday's game against the Waratahs, 20 minutes at five-eighth and then another 20 minutes at fullback. The opportunity to run at full stride did not come his way in the game, but he was nonetheless thrilled to have broken his drought of game time.
''Words can't describe that feeling when you get back on the field … you don't know what you have until it's gone. It was awesome,'' O'Connor said.
''I didn't get through as much as I would have liked. I got a few carries, a few kicks away.
''I got a few tackles and got a nice hit put upon myself as well.''
■ The Rebels will find out on Monday the extent of the shoulder injury to their Wallaby winger Cooper Vuna.
RUPERT GUINNESS

Rupert Guinness is a Sports Reporter for The Sydney Morning Herald
Morning & Afternoon Newsletter
Delivered Mon–Fri.