Outgoing ACT Brumbies coach Stephen Larkham to give Dan McKellar space to make 'own team'
Outgoing ACT Brumbies coach Stephen Larkham has promised to give Dan McKellar space to "make his own team" even if the pair share a Super Rugby office next year.
The Brumbies have started building McKellar's roster for his rookie season as a head coach and the club is working to appoint assistant coaches.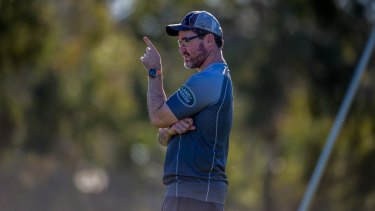 Former Brumbies leader Laurie Fisher has emerged as an experienced option to bolster McKellar's team, and Larkham's presence in Canberra will add to a coaching brainstrust.
Larkham will become a full-time Wallabies assistant at the end of the Super Rugby season, but will be based in Canberra as part of an ARU initiative to offer better support to Australian franchises.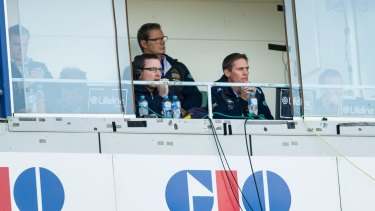 Other Wallabies assistants will be spread around the country, opening the door for Larkham to keep a desk at Brumbies headquarters.
But he is determined to avoid giving unwanted input and keen to give McKellar space to take the reins.
"I'll be more of an observer next year than anything else," Larkham said.
"The program is solely Dan's and it's there for him to make his own team. If he wants to have a chat, of course I'll be there to have a chat.
"But the beauty of getting the reins is that you make the decisions and you learn from your decisions.
"I won't be in at the Brumbies every day but I will be there to offer assistance if needed and I'm obviously keen to see the club keep moving forward on and off the field."
McKellar returned to Canberra last week after a stint working with Japanese club Suntory.
The Brumbies have already secured a fifth consecutive finals spot and will host a play-off match at Canberra Stadium on July 21 or 23.
Larkham is keen to finish his tenure with a Super Rugby title, but to do so they will have to break a Kiwi curse which has dogged Australian teams for 29 games in a row.
McKellar will get a taste of head-coach action when the Brumbies play against an Asian Barbarians team in Singapore on June 22.
The Brumbies will send a near full-strength team to Singapore, without their Wallabies representatives, while an under-20s ACT side will play at the world club 10s in Mauritius.
Larkham backed McKellar to rise to the head coach challenge, but said the pair were only focused on winning a Super Rugby championship this year.
"Dan has been in the program for a long-time now in a few different roles," Larkham said.
"He's had heaps of experience prior to that as well in Canberra, Sydney, Brisbane and overseas.
"He's extremely intelligent, very motivated and passionate about the Brumbies as an organisation. He'll lead the team really well, appointing him will be a no-brainer."
McKellar could have the benefit of drawing on the experience of three former Super Rugby head coaches in Larkham, Fisher and Brumbies high performance director Damien Hill.
"I think Dan will make the decision on who he wants to have around him," Larkham said.
"Dan and Laurie worked really well together, they saw the game very similarly so I've got no doubt if they go that way, they'll work very well together."
Chris Dutton is the sports editor at The Canberra Times.