Pat McCabe's injury scare sparks boost from ACT Brumbies bench to Wallabies recall
PRETORIA: He's broken his neck in his past two Test matches and, lying in an ambulance two months ago, ACT Brumbies back Pat McCabe again feared his rugby career might be over.
But Super Rugby's comeback king says that latest injury scare hardened him mentally, contributing to the form that has catapulted him from the Brumbies bench back into the Wallabies squad.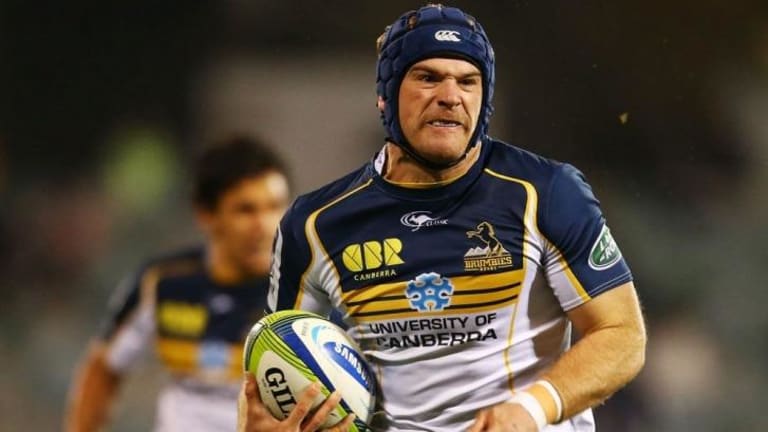 McCabe is set to make a remarkable Test comeback next month, named in a 32-man Wallabies squad for the three-match series against France.
The 20-Test Wallaby has opened up about his journey back from two broken necks, his sympathy for NRL player Alex McKinnon and his ambition to win back his Test spot.
McCabe broke his neck in his past two Tests for the Wallabies – one in November 2012 and then again in June last year. It triggered the darkest time of his career, when he lacked motivation and questioned his ability.
"I really didn't enjoy myself at all last year and to be here loving footy again … it's a very nice feeling," McCabe said.
"Last year I never really felt like I was contributing or that I was overly confident in my ability to play well for the team.
"I felt like I was on the outer a bit because I wasn't playing and I didn't do pre-season, it wasn't a great time for me. It was tough.
"I didn't feel part of the group, I had my neck injury, my hamstring, my knee and then my neck again. To string a few games together this year and feel like I belong at this level, it's given me a lot of satisfaction."
Even so, McCabe said he was surprised when Wallabies coach Ewen McKenzie called him on Wednesday to tell him he was in the squad.
It was only two months ago McCabe feared he would never play again when he suffered a neck injury in Perth and was taken to hospital
Stretchered off the field against the Western Force in March, McCabe now credits the knock for kick-starting his stellar form.

"That knock has actually given me confidence," McCabe said.
"Once I got that big knock, had a scare and it was fine, it gave me confidence to know that I could survive. I do think where I'd be now if I'd broken my neck again.
"When I was in the ambulance I thought I'd played my last game. That was it. It was a scary and daunting proposition. But I've found a lot more enjoyment in the game this year."
It's not surprising McCabe's heart sank when he saw McKinnon break his neck playing for the Newcastle Knights. McKinnon's situation reminded McCabe how lucky he was.
"It was scary and I felt incredibly sorry for Alex," McCabe said. "Anyone who plays contact sport, that's your worst nightmare.
"It was heartbreaking to see and it just hit home the injuries I've had are pretty scary and they could have been a lot worse. Also on the flip side, I realise how lucky I am to still be playing and be able to make a Wallabies squad."
McCabe has been forced to move to the Brumbies bench to accommodate the ACT's combination of Matt Toomua, Christian Lealiifano and Tevita Kuridrani. Despite that, his utility value is not under-rated at the Brumbies and he's having his best season since 2011.
"Everyone wants to start … but I'm enjoying it and I feel like I'm making a contribution off the bench," McCabe said.
"I'm just trying to make the most of it. I did think being on the Brumbies bench would mean that I wouldn't be in the Wallabies squad ... to get in the Wallabies was a nice surprise."
Brumbies coach Stephen Larkham said McCabe's selfless attitude made him a "must have" for the Wallabies.
McCabe has proved his doubters wrong this season, adding new dimensions to his game and becoming the Brumbies' most consistent performer.
"They need players like Pat in the Wallabies, guys who are unselfish. He is 100 per cent dedicated to the team, he will do whatever it takes to get on the field or win a game," Larkham said.
"He offers so much versatility … he's someone you have to have in your team at that next level."
McCabe laughs at references from teammates, dubbing him Super Rugby's "Chuck Norris" because of his toughness.
"It doesn't sit well. I've copped a bit about that, I don't enjoy it,'' McCabe said.
"I don't think I'm a tough guy. Everyone who plays Super Rugby, NRL or AFL has injuries. It's part of the game and mine just happen to be two broken necks. I'm not special, I'm just trying to win."

Chris Dutton is a sports reporter at The Canberra Times.
Morning & Afternoon Newsletter
Delivered Mon–Fri.