Recruit Lausii Taliauli fastest in ACT Brumbies squad
If Lausii Taliauli had been as quick with his paperwork as he is on a rugby field, the 21-year-old would still possibly be playing with the Australian Sevens team in qualification for the 2016 Rio Olympics.
But a delay in Australian citizenship has helped deliver the ACT Brumbies one of their fastest players for the 2015 Super Rugby season.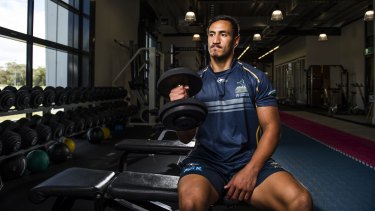 A former under-20s player with the Gold Coast Titans NRL club, Taliauli has signed a one-year deal with the Brumbies and completes the club's 30-man squad.
The 193-centimetre winger also made an eye-opening first impression in pre-season this week, outpacing the Brumbies' fastest players, Jesse Mogg and Robbie Coleman, in 40-metre sprints.
But the New Zealand-born speedster, who moved to Australia when he was 14, fell into the lap of the Brumbies after being ruled ineligible to play with the Australian Sevens team in Olympic qualifying.
Taliauli debuted for the Australian Sevens team in tournaments in Glasgow and London, but can't play in Olympic qualifiers until he is granted Australian citizenship.
While the application process was stalled, the Brumbies invited Taliauli to play a game for the Canberra Vikings in the National Rugby Championship and then jumped at the opportunity to sign him.
"There's a fair bit of talent there. He can play both codes, he's big, athletic, strong and very quick," said Brumbies coach Stephen Larkham. "I think he'll be very suited to our backline.
"We had some speed testing and he was fastest in the squad, so I'm looking forward to seeing him put that on the paddock."
Originally a rugby union player, Taliauli crossed to the Titans after leaving school on the Gold Coast. He was called up to trial with the NRL squad, then broke his leg.
Taliauli is progressing with his Australian citizenship application and still has ambitions to play sevens at the Rio Olympics, but said those goals had now been superseded by the opportunity to play Super Rugby.
"I only applied for my Australian citizenship in March. I left it too late," Taliauli said.
"It was real tough [to leave sevens]. One reason why I didn't stay there was because of my citizenship. I didn't have that in time to play for the upcoming [Olympic qualifying] games. That's why I had the chance to make the shift.
"My ambition is to get Australian citizenship so I can become a Wallaby, that's my goal. I dreamed of being an All Black as a kid, but I'm an Aussie now.
"My whole life I've been wanting to break in and make it to Super Rugby, this is a great opportunity for me."
Apart from his speed, Taliauli's strongest assets are his sidestep and ability in the air. He doesn't set his sights low when asked who he models his game on.
"One of the stars I look up to is Izzy Folau ... he's my idol, I look up to him. He's done it in both codes."
While he would like to sign a longer contract at the Brumbies, Taliauli also has an eye on a possible return to sevens.
"I would like to keep sevens on the side just in case an opportunity pops up for me to go back and play with them ... I would really like to play in Rio."
Chris Wilson is the sports editor at The Canberra Times.