Samo's winning habit gives Wallabies an X-factor
Amid the celebration of Wallabies captain Nathan Sharpe over the past few months, the contribution of another elder statesman has been all but forgotten.
Radike Samo has not played in every Test this year, as has his John Eales medal-winning team mate, nor has he made every squad.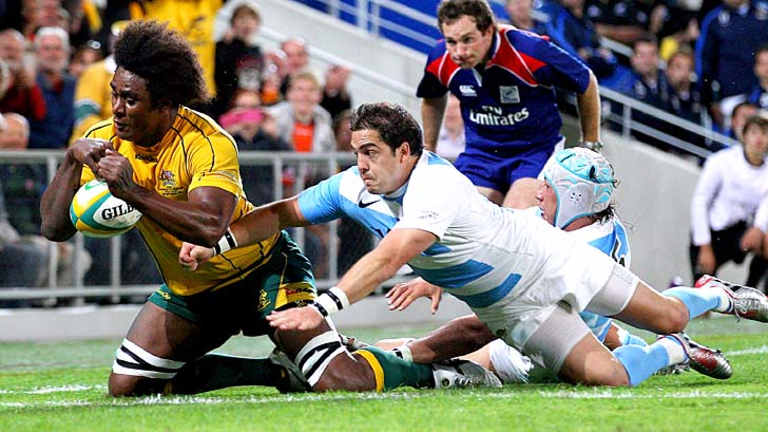 In fact, after the glory of the 2011 Super season, the Reds back rower topped an inconsistent 2012 season with a shoulder injury that hampered him in the Rugby Championship.
And yet there remains something about Samo, a Wallaby again at the ripe old age of 36, that has kept Robbie Deans coming back for more.
"He's got a remarkable history, a remarkable history of success, he's a winner and [that is] probably something he doesn't get a lot of credit for," Deans said.
"To be playing as well as he is, as effectively as he is, at this age, is remarkable. There's not too many others that have that sort of physical prowess at this stage of a huge career. He's played in the northern hemisphere, he's played in the southern hemisphere, he's played in all of the tough competitions and he's been the point of difference often."
That fact is probably not lost on Queensland fans, who watched the towering Fijian-born forward electrify the Reds' attack from up front, on a near-weekly basis, in their triumphant march to the Super Rugby title last year.
It may not be lost on Wallabies supporters, who remember the gobsmacking try he scored, from outside halfway, that helped Australia to victory in the Tri Nations final against the All Blacks last year.
And it was certainly not lost on members of the French media, who were eager to reminisce with Samo about the match-winning try he scored for Stade Francais against Clermont in the Top 14 final in 2006.
Samo's French experiment only lasted one year before he moved to Japan for three seasons until 2010, when Ewen McKenzie gave him a chance in Queensland.
But it is that most unusual of qualities — an "X-factor" that has survived 12 years in professional rugby — that continues to delight Deans and earned Samo a spot in the Wallabies line-up, more than eight years after earning his first cap.
"You pick these blokes because of what they can do," Deans said. "Sure, their form may fluctuate, but that's where blokes who have history and background [are important] ... He's a bloke who's always responded to the occasion, he's been the point of difference on big occasions, often. It was an element we were looking for as well — someone who could give us momentum, stop momentum, bring a bit of X-factor."
He's got a remarkable history, a remarkable history of success, he's a winner and [that is] probably something he doesn't get a lot of credit for.
Samo puts much of his recent longevity down to three years without alcohol. He has had one drink — after the Reds' Super Rugby final win last year — but nothing more, since the death of his father in early 2010. His post-game ritual these days involves a kava ceremony with his family, to "cool down my nerves".
"In Fiji you've got to [give up drinking after a relative's death] for three months," Samo said. "We all did that, then after the 100 nights or three months everyone gets back together and celebrates, and then everyone gets back on the drink. But I chose not to."
It is another reason he commands such respect from Deans and why the Wallabies coach is hoping Samo's approach rubs off on his younger team mates.
"There's a point in time when a young player recognises that it gets harder, so you've got to find a way of making it easier on yourself," Deans said.
"If, for example, you do enjoy an ale after playing, there's nothing wrong with that, [but] there's a point in time where, if you're wise and smart you'll recognise that it may not be in your best interests ... if you want to play as long as Radike has."
Georgina Robinson is a Sports Reporter for The Sydney Morning Herald