Stephen Hoiles on bench as Waratahs prepare for Force game in Super Rugby
The role reversal was not lost on Waratahs captain Dave Dennis when back-rower Stephen Hoiles, fighting for a remarkable return to Super Rugby, was confirmed on the bench for Sunday's game against the Force.
Hoiles, 32 and a former Wallaby with 16 Test caps, was captain at the Brumbies until an Achilles injury sidelined him in 2010 and then almost brought an end to his career despite undergoing surgery.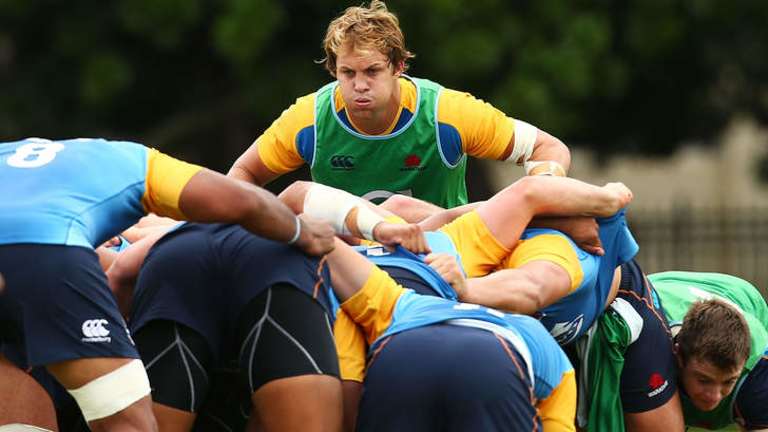 Today, he is still without a contract at the Waratahs.
But since calling NSW coach Michael Cheika last August after recovering to play for Randwick - to ask if he could train with the club he played for from 2004 to 2006 - Hoiles has made great inroads towards getting a deal.
Hoiles' bid to save his career has been one of the inspirational stories at the Waratahs in the off-season. On Friday, Dennis said he saw the irony in where he and Hoiles were placed in their respective careers.
When Dennis started at the Waratahs in 2006, he was an academy player while Hoiles was in the Waratahs squad.
''We spent a bit of time together,'' Dennis recalled. ''He must be shaking his head going, 'What's going on? I go away for two years and Denno is captain.' ''
Dennis smiled as he spoke of that role switch, but not when he spoke of how Hoiles has conducted himself in training at the Waratahs from the pre-season to now, with the uncertainty of his future hanging over him.
''He has respected that there have been some changes here and guys have taken on different roles - new coach, new captain, and new senior players,'' Dennis said.
He then lauded Hoiles' willingness to graft his way back into the squad - which has been rewarded with his bench selection for Sunday. ''He hasn't been earning anything … To be able to work hard and train and not complain shows he cares about the team and wants to play rugby.''
Dennis said he has not been surprised by 32-year-old Hoiles' ability to overcome the physical challenge of his comeback.
''It's probably more the mental side,'' Dennis said. ''He is not getting any younger and to still be motivated to play Super Rugby at that age when he could have easily finished up and had his life with his kids.
''He is a capped Wallaby and he is a guy who has been around rugby for a long time and has a lot of experience. He deserves the respect of the playing group, which he has had since he walked into the club.''
Cheika, who named Hoiles on the bench ahead of Pat McCutcheon, and Matt Carraro over Cam Crawford for the back reserve slot, said the back-rower had earned his selection on the bench.
''He is also good for our lineout, if we have an issue with our lineout,'' Cheika said. ''He also has a slightly different profile [as a link player with the backs].
As for Hoiles' contractual chances, Cheika indicated that a decision may be made next month.
''I just wanted to let everything unfold for all the players until the end of February,'' Cheika said. ''From there, I will make some decisions as to what I am going to do.''
Rupert Guinness is a Sports Reporter for The Sydney Morning Herald