Success won't go to Brumbies' heads, promises Mowen
ACT Brumbies skipper Ben Mowen says there's ''no limit'' to his team's potential and insists it will not fall victim to complacency this week.
Mowen will make his return from a neck injury when he lines up against his former NSW Waratahs teammates at Canberra Stadium on Saturday night.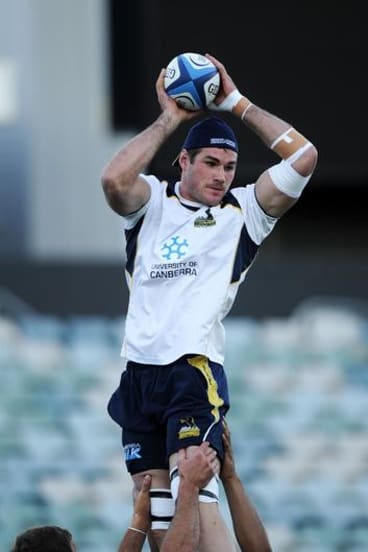 And he hopes the Brumbies' successful tour of South Africa and their attacking style will create an electric atmosphere in the capital and attract the biggest crowd of their season.
Mowen is confident the Brumbies can do ''some really special things'' after returning to Canberra last night full of confidence.
They ended their two-game tour of South AFrica with seven Super Rugby points and scored six tries in their 34-20 victory over the Johannesburg Lions two days ago.
They have scored 16 five-pointers in their past three matches. Despite their impressive start to the season, the Mowen said the Brumbies were sticking by a saying from forwards coach Laurie Fisher, ''don't fall in love with ourselves''.
''I know there's a huge focus in the group of each week making things happen, we're not expecting them to happen,'' Mowen said. ''In terms of progression, we just want to get better and better every week.
''I'm not going to put a limit on what that can be and that's the beauty of the group we've got - there's no limit to ourselves and we expect more of each other every week.''
The Brumbies have a five-point buffer at the top of the Australian conference after the Waratahs lost to the Canterbury Crusaders yesterday.
Even if they lose to the Waratahs they could still hold on to top spot.
But the Brumbies have put a major focus on ending a season-defining month with their sixth victory of the year heading into the bye.
The clash with the Waratahs will be the first time Mowen has taken on his old side since moving to the capital last year and taking the Brumbies captaincy reins.
He played 42 matches for the Waratahs, but he is now firmly established as the leader of the young Brumbies.
While Mowen missed last weekend's match, he said injecting Stephen Moore as his replacement helped refresh the group.
Now Mowen hopes the Brumbies can turn Canberra Stadium into a fortress to help them continue their charge through the season.
''I hope people are starting to jump on board … I remember being in Brisbane last year [for the Queensland Reds' finals campaign] and the crowd helped create massive momentum,'' Mowen said.
''Home games are so important and if we could have 20,000 plus at Canberra Stadium it creates such a hostile environment for visiting teams and the guys lift another level.
''I'm really interested to see what we can do at home with a big supporter base, that's when I think we can do some really special things.
''It's an important game for me because of the conference and the Waratahs are one win behind us, if we can get a win this weekend it really sets our year up perfectly.''
Morning & Afternoon Newsletter
Delivered Mon–Fri.