The 'next Folau' tipped to become a Wallaby before leaving school
He is the 15-year-old fullback they are calling the 'next Israel Folau', who shook like a leaf when he met his namesake this year and could be a Wallaby before he finishes school.
His name is Joseph Suaalii and he is at the heart of a push by Rugby Australia to sew up their best young talent and fight off suitors from other codes.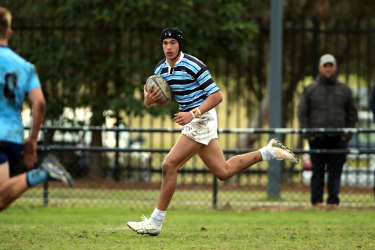 The King's School fullback, who lit up the GPS competition this year, is only in Year 9 but is already the same height as Folau and has rugby recruiters dreaming he could eclipse the dual international given he is in the rugby system earlier.
Suaalii grew up playing rugby league in Penrith but had started rugby, AFL, basketball and athletics by the age of 11 and as a Regentville Public School Year 6 student made an astonishing four NSW PSSA teams at the same time.
He played in the Harold Matthews Cup for South Sydney under-18s this year and is also interested in basketball, but RA believes if he sticks with rugby he is a real chance of eclipsing James O'Connor as the youngest ever Wallabies debutant in the professional era (O'Connor was 18).
How they will make that happen is becoming clearer after a major overhaul of the Super Rugby academies.
Players as young as 15 will be aligned with academy programs designed to complement their school and club duties, with a view to playing in a new Under-19 Rugby Championship (URC).
The Cauliflower understands RA will also use scholarships to keep promising school-leavers in the rugby system as their bodies and skills develop.
Wallabies coach Michael Cheika has played a big role in helping RA keep their top talent close, addressing a group of 20 NSW Schoolboys earlier at Allianz Stadium this year and telling them his "greatest dream" was to sit in the stands in coming years and watch them play top-flight rugby.
Cheika also met with Suaalii and brought along the 15-year-old's idol, Folau.
A source told The Cauliflower that despite the fact Suaalii is already big enough to look the decorated fullback in the eye, the youngster shook like a leaf.
Suaalii is just one of the schoolboy talents Rugby Australia is keeping tabs on. Year 12 students Will Harris (Scots) and Angus Bell (Newington) have all been retained in rugby despite big interest from NRL clubs. The pair were among RA and the Waratahs' top two schoolboy targets this year.
Southern compensation
Like death and taxes, you can guarantee that once every four years the top southern hemisphere rugby nations will be looking for compensation for their World Cup losses.
The argument goes that the showpiece event decimates their revenue streams by cutting out the June incoming Test tours and shortening the Rugby Championship.
So for Australia, who hosted six Test matches on home soil this year, that will plummet to as few as two Tests in 2019.
Meanwhile in the northern hemisphere, the Six Nations will take place in its full format in February and March.
The SANZAAR nations of Australia, South Africa, Argentina and New Zealand typically team up and lobby World Rugby for compensation and The Cauliflower understands they have again been successful, securing £10 million, or $18 million, to split evenly amongst the four unions.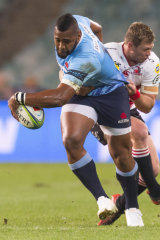 Big T
Speaking of the northern hemisphere, Waratahs fans always knew that Fijian winger Taqele Naiyaravoro was a big unit, but it was illuminating to read how he has been received in his new home, Northampton, in the English Premiership.
London's Telegraph opened their feature thus: "Premiership backs everywhere outside Franklin's Gardens must have shuddered when Northampton announced that they had signed Australia wing Taqele Naiyaravoro.
"At 6ft 5in and 19st 7lb, Naiyaravoro is not just the biggest back in the league but the heaviest player in the entire Northampton squad.
"Whomever first opined that rugby is a game for all shapes and sizes probably did not envisage wings eventually becoming the size of dump-trucks."
May he be as destructive for the Saints as he was for the Waratahs this year. And may we see him back in a gold jersey come the World Cup in 2019.
Union welcomes World Series
Is the tide turning in the World Series Rugby saga? First it was Rugby Australia sending out the positive vibes and now the world's rugby players seem to be coming around.
The body representing the interests of players worldwide, International Rugby Players, told The Cauliflower they were open to a world series featuring Andrew 'Twiggy' Forrest's rebel league, provided it did not lead to player burnout.
"We've sat down and spoken to them a few times," IRP boss Omar Hassanein said. "The biggest consideration is making sure that players aren't exposed to too much rugby, but we see the benefits to Australian rugby.
"Rather than losing the Sean McMahons of the world there might be another place for them to play and get the Test opportunities they want. We think expansion into western Sydney could be good if it's done well and if we get a Fijian or [Pacific] Islands team up that could work in helping keep players closer to home, rather than feeling like they have to go to Europe to earn a living."
Georgina Robinson is the chief rugby reporter for The Sydney Morning Herald.