Timani returns to provide needed steel in Wallabies' pack
LONDON: Returning lock Sitaleki Timani likes to make his presence felt on the field from the kick-off.
While an outside back might crave that first touch to settle the nerves, Timani needs to bowl over his first opponent.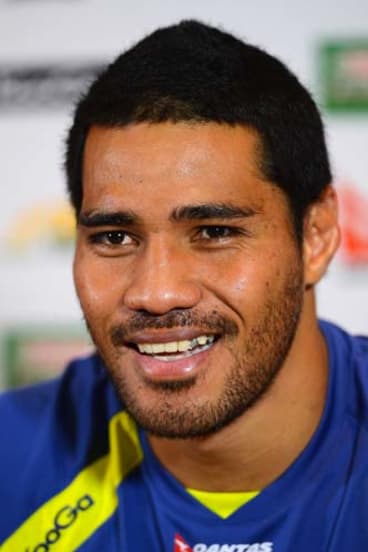 ''If they kick it off to my side I just want to be the first one to tackle that [receiving] guy or the first one to get there,'' he said, adding that it was his responsibility to set the intensity level early.
''If you are big you've got to make the difference, you've got to stand up and try to get everyone to follow you or start something.''
After sitting out the first Test on the Wallabies' spring tour, Timani was declared fit to play England and appears to be the selectors' first choice to partner captain Nathan Sharpe in the second row.
Prop Ben Alexander appears to be marked to take over at tight-head from Sekope Kepu, while the insertion of Berrick Barnes at fullback, in place of Mike Harris, could be the only other change coach Robbie Deans makes to the starting line-up that played against France.
It was uncertain what Deans was planning for Digby Ioane. He ran in opposition for much of Tuesday's training session but was later swapped with Nick Cummins.
There was also uncertainty about Rob Simmons, who was due to face a lifting-tackle charge on Wednesday afternoon.
Timani's return is much needed. His imposing physicality is an element the Wallabies and fans have come to rely on. There is something reassuring about watching his two-metre, 120-kilogram frame trundle down the field, ball in hand, with defenders clinging to his jersey.
But Timani, 26, knows he needs more than brawn to continue his rise through the Wallabies' playing ranks, especially at a time coaches are contemplating life after Sharpe.
''[You need] skills as well as brains to play,'' he said. ''I think I'm getting better and better but every game I try to learn something and go back and watch the game, and find what I need to bring in for the next game.''
While he did not have a hand in the disastrous France result, Timani will be a crucial part of the effort to resurrect the spring tour this weekend. On Tuesday the squad watched England's Test defeat of Fiji. ''They are coming pretty hard in the breakdown, every opportunity they come in pretty hard at it and all the forwards are really big and strong as well,'' Timani said.
''A big thing for me is to be in the scrum and try to get our ball and try to make a difference in the scrum. Probably defence as well, try to talk up the boys to get in position and make the tackle.''
After the Wallabies' loss in Paris, many players mentioned the attitudinal shift the side needed to make against England. ''We know what we want and we've got to do it,'' he said. ''We have talked about it enough, we just need to do it in the game. We need to perform and bring that mental toughness into the game and try to do whatever it takes to win.''

Georgina Robinson is a Sports Reporter for The Sydney Morning Herald
Morning & Afternoon Newsletter
Delivered Mon–Fri.