Tom Banks emerges as future Wallaby after two tries in Brumbies win against Jaguares
ACT livewire Tom Banks has emerged as a future Wallabies fullback after another breathtaking performance, scoring two tries in a Brumbies rout in Argentina on Sunday.
But the 22-year-old says his only focus is cementing a starting XV spot in Canberra and helping the Brumbies secure a finals berth by beating the Melbourne Rebels this weekend.
Banks was at his speedy best against the Argentina Jaguares and scored two tries in four minutes to give the Brumbies a crucial advantage before half-time.
An early mistake which cost the Brumbies a try didn't rattle Banks, who bounced back for the second week in a row to be the match-winner.
His efforts have caught the eye of Wallabies coach Michael Cheika as a Test contender in years to come, but it's unlikely he will be picked for the mid-year international series after just five Super Rugby games.
Banks has cemented his place as the Brumbies' fullback, finding a good combination with Aidan Toua and adding spark to the ACT attack.
"I didn't start the way I wanted to but [early errors] didn't rattle us. It's a good building block," Banks said.
"We got some points on the board and I was stoked to overcome it. The players inside me give me confidence, when they believe in you it allows you to play with a lot of confidence.
"As a team we haven't really been able to show everything, but the big thing for us and me now is coming back and facing up against the Rebels to chase that finals spot."
Brumbies coach Stephen Larkham praised the flyer for showing calmness under pressure against the Jaguares.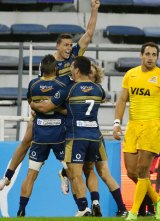 Banks' attempt to trap a ball with his foot just one metre from his own line backfired and paved the way for the Jaguares to score in the first half.
Undeterred by the mistake, Banks kept his composure to score minutes later and then won a foot race for his second try after a masterful kick by flanker Chris Alcock.
It was almost a deja vu scenario for Banks, who was penalised with a yellow card against the Southern Kings two weeks ago but rebounded to score the match-winning try in the second half.
"Banksy is actually remarkably composed, nothing really fazes him," Larkham said.
"He doesn't get emotional about much and you saw that against the Jaguares. He made up for errors, he's got genuine speed and he's got a really good combination out there.
"That combination in the back three [with Banks, Toua and Henry Speight] seems to be working for us at the moment."
Banks' try double was backed up by two-game rookie Andrew Muirhead, who came on in the second half and scored two of his own.
His second try was a superb solo effort from close range, twisting and spinning before reaching out backwards to score the match-winner.
Muirhead was delivering beer kegs around Canberra two weeks ago and playing club rugby for Royals before the Brumbies offered him a part-time contract to join their overseas touring squad.
"We were talking after the game and Andy is one of the only blokes who could have scored that try," Larkham said.
"He's got a very good knack of finding the line and very strong ... he was superb along with a number of guys."
Chris Dutton is the sports editor at The Canberra Times.