Wallabies beat Italy, Pocock injury not as bad as first thought
Padua: The Wallabies have continued their unbeaten streak over Italy with a 26-7 victory and are optimistic David Pocock will be right for next week's critical showdown with England after he came from the field injured early in the second half.
Two Marika Koroibete tries opened up a 14-0 half-time lead for the under-pressure Australians in what was their biggest lead at a break since the Japan fixture in November last year.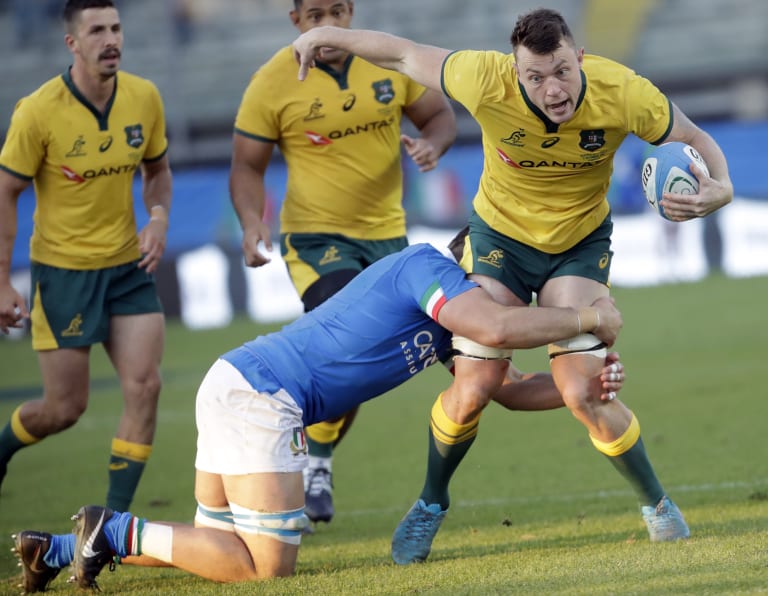 Although Italy played better than their 13th world ranking would suggest, the Wallabies recorded their fourth win of 2018 and 18th in a row against the Azzurri dating back to 1983.
Australia's defence in the second half was yet again a positive sign as they held Italy out on numerous occasions close to the line. The last time the Wallabies managed to keep two sides to under 10 points in consecutive matches was in 2007 against Wales (31-0) and Fiji (49-0).
"I enjoyed it," said coach Michael Cheika. "Defensively I thought we were really good.
"We created a few things in attack, we had a couple of chances we could've been slicker on the finishing, maybe one or two of those. Where we're at right now, we've got to keep grinding, keep going at it, do the things that we've been working on to do the best we can and keep bringing it.
"We stuck solid, even when we had penalty advantages against us, we stayed at them. We didn't want to let them over the line."
Captain Michael Hooper was outstanding, making 18 tackles – twice as many as any of his teammates - in a busy performance that showed how much he wanted to get back in the winners' circle.
"I feel good mate, I feel great," Hooper said. "We won, we grinded, [in] the changerooms people are smiling. It's important to enjoy these and reward ourselves with a win against our name because we haven't had a huge amount this year. The rest of the team recognises that as a huge effort."
As for Pocock, he made heavy contact with an Italian player and looked groggy on the turf early in the second half.
Initially it was thought Pocock had been taken off for a head injury assessment but Wallabies officials later said that was not the case, leaving him a better chance of lining up against England at Twickenham next Saturday than first thought.
"He's got a pretty nasty stinger on his neck," Cheika said. "It was giving him the burns down the arm for quite a while. We'll just wait and see what happens and see how he recovers over the next couple of days."
The pressure has been alleviated, somewhat, on Cheika and his coaching staff but the Wallabies were realistically in a no-win situation. It was a match they were expected to win easily. Funnily enough, it was their biggest margin of victory in over a year.
Earlier, after some ineffective kicks from Bernard Foley and Matt Toomua, the Italians made the most of a bad missed Wallabies tackle to almost score in the right corner.
A chip kick and a horrible bounce for the Australians saw Italy No.8 Abraham Steyn grab the ball but his foot was just into touch.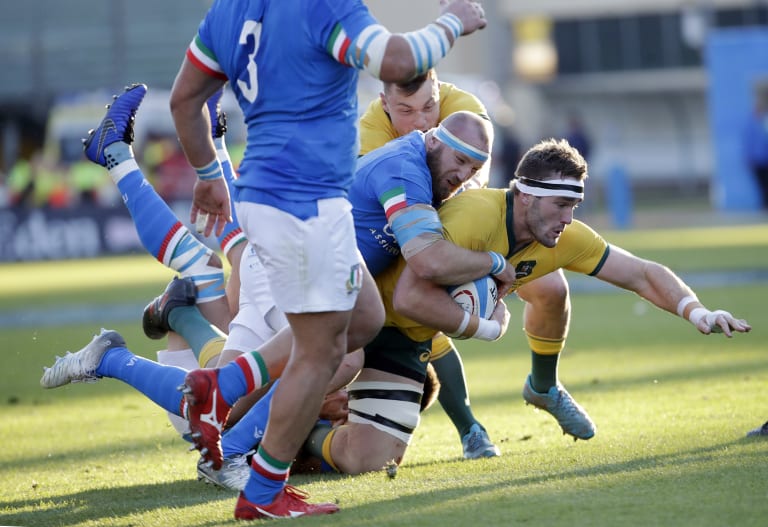 Jack Dempsey left the field for a head injury assessment (HIA) but returned shortly after as Australia began to find its groove.
There was a heart in mouth moment for debutant Jake Gordon when his pass off the back of a lineout ended up being swooped upon by his opposite number Tito Tebaldi, who ran about 40 metres to score.
However, it was called offside, to the displeasure of Italian coach Conor O'Shea. Tebaldi was penalised because he wasn't back 10 metres with the rest of his defenders as he was outside the 5-metre and 15-metre lines where lineouts takes place.
"For the life of me, why you don't go upstairs when it's there is just beyond belief," O'Shea said. "I just want the same rules for both teams."
Cheika responded by saying: "Wow. I'd be in the outhouse if I pulled that one out after the game I'll tell you now. I'm not going to talk about the referees because when we lose and I say something about the referees, I get my head ripped off. So when we win I'm not gonna say nothing. I'm going to sit here and enjoy it."
Cheika said Gordon was productive in his first match in the green and gold.
"I thought he had a good 60-odd minutes or whatever he played for his first Test," Cheika said. "Definitely creates competition in that position."
It took until the 31st minute for the Wallabies to break the deadlock, with Koroibete's try under the sticks a product of a barnstorming line break from man of the match Samu Kerevi.
Like he did against New Zealand in Yokohama, Kerevi carried at the line with venom and was able to make line breaks that gave the Wallabies front foot ball.
His offload quickly went through Australian sets of hands before Koroibete chalked up his first Test try since the third Test against Ireland.
"He's a guy who's had a pretty outstanding game off the back of two-and-a-bit games back in international rugby," Cheika said.
Five minutes later Koroibete had his second down the right edge, thanks to a nice pass back inside from Adam Ashley-Cooper in what was a reward for patience even when the Australians weren't overly polished in the first half an hour.
The 14-0 half-time scoreline was a fair reflection of the match but you always thought the Wallabies would coast to a comfortable victory once they had their confidence back.
Taniela Tupou ensured the margin blew out to 21 points with a try of his own but just when it looked like the Wallabies would streak away, a poor pass from Foley during attack was swooped upon by Italy. Winger Mattia Bellini ran more than half the field to plant the ball over the line in the 46th minute.
While the Foley experiment at No.12 didn't go quite to plan, Toomua's service was good and he will give Cheika plenty to think about at the selection table ahead of the England game.
"I thought he had a great game," Cheika said. "He kicked well from the tee and he got a good 80 minutes at No.10, so it's the first time he's been able to get in the saddle there this season."
Scott Sio went to the bin in the 60th minute for a deliberate knock-on but the big problem for the second week in a row was Australia's scrum, which was penalised multiple times.
Italy went close to scoring in the 64th minute and threw everything they had at a Wallabies defence that by full-time had made 110 of their 126 tackles (87 per cent).
Genia put the icing on the cake in the 79th minute with a try in his 99th Test to set up what should be a fascinating Test week in London against an England side that Eddie Jones will have no trouble firing up after their 35-15 defeat of Japan.
Tom Decent is a journalist with Fairfax Media.