Brumbies prop Scott Sio to make run-on debut for Wallabies against All Blacks
Wallabies prop Scott Sio knows his run-on debut for Australia is a step towards beginning a Sio World Cup tradition, but his only focus is on All Blacks tighthead Owen Franks and beating the Kiwis at Stadium Australia on Saturday night.
His coach Michael Cheika says the impact Sio has provided off the bench has earned the ACT Brumbies loosehead prop his first start in his eighth Test.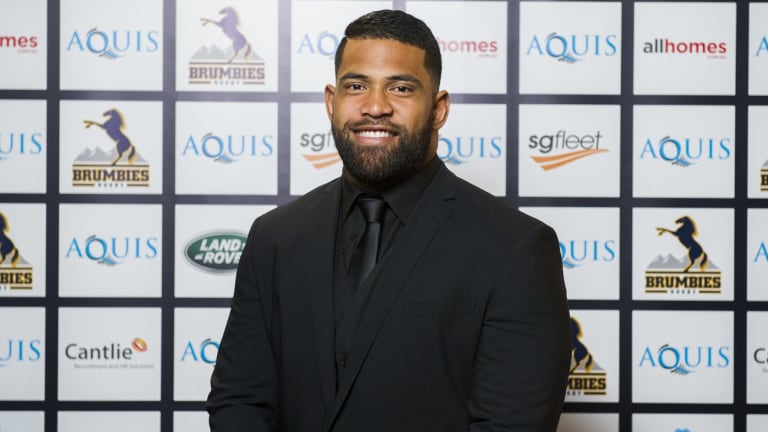 Sio's father David played for Samoa at the 1991 World Cup and he told Fairfax Media last month he wanted to be part of a family dynasty to play on rugby's biggest stage.
But he wasn't looking that far ahead just yet.
The 23-year-old was "super, super proud" to have made Cheika's starting XV for the first time and felt he'd finally regained the confidence he lost last year when he snapped ankle ligaments at a Wallabies training camp.
"Those things [like the World Cup] are down the track, I've just got to look forward to this Saturday night and get my job down pat and hopefully put out a good performance and see where the next few weeks take me," Sio said.
"Everything you do from a day-to-day process is building towards that bigger picture [of the World Cup], but things like that can't come into fruition unless we're laying the foundation and platform early on.
"That comes this weekend and during the Rugby Championship. These will be the only games we play before then, so we know we've got to put as much as we can into it."
He'll be packing down next to Wallabies and Brumbies captain Stephen Moore in the scrum and he said the pair had developed a "great combination over four years".
But he said the key was ensuring everyone in the forward pack, including the bench, also developed those combinations.
Sio was excited with the selection of Michael Hooper at openside flanker and David Pocock at No.8. He felt it would "add a new element" to the Wallabies pack.
"I think it's exciting, I don't think a lot of people saw it coming. I think it's a very dynamic back row having Scott Fardy there [as well]," Sio said.
"All three of them are very good over the ball, but very agile around the park. Hopefully they can add a new element to our team, a new look."
Sio will face Franks, the Canterbury Crusaders prop who was part of the All Blacks World Cup victory four years ago.
He said the focus was not only on trying to better Franks at scrum time, but also beginning the two Bledisloe Cup Tests with a victory to give the Wallabies a chance of winning the Cup back for the first time since 2002.
"I've come up against [Franks] in the last few years against the Crusaders and he's been one of the premier tightheads over the last few years, so I've got my hands full come this weekend," Sio said.
"He's been there and done that, he's won the World Cup and won the Rugby Championship a number of times.
"You've got to beat the All Blacks twice and you've got to beat them on their home ground, but first and foremost, if you don't win at home next week's not going to matter in terms of the Bledisloe."
Cheika told Fox Sport's Rugby HQ he was trying to reward good efforts off the bench with starts and Sio was the perfect example of that.
​"We've made probably seven or eight changes in the three matches now and I'm trying to do that in a positive way," he said.
"Not saying you're out because you haven't played any good. [Instead] guys who are coming in and making good contributions, give them a chance.
"Scott Sio is an example of that, I think it's the first Test he's started. He's made good contributions when he's come off the bench and I think that should be rewarded."
​THE RUGBY CHAMPIONSHIP
Saturday: Wallabies v All Blacks at Stadium Australia, 8.05pm.
David Polkinghorne covers the Canberra Raiders, local rugby league, Canberra Cavalry, racing and cycling, along with every other sport, for The Canberra Times.