Wallabies' halves to come under fire
The Wallabies are preparing for Wales to target their halves Will Genia and Berrick Barnes as they attempt to level their Test series in Melbourne on Saturday night.
The Australians outplayed the Six Nations champions for a 27-19 win in the opening Test in Brisbane, with No.9 Genia a standout in one of his best-ever performances in the gold jumper.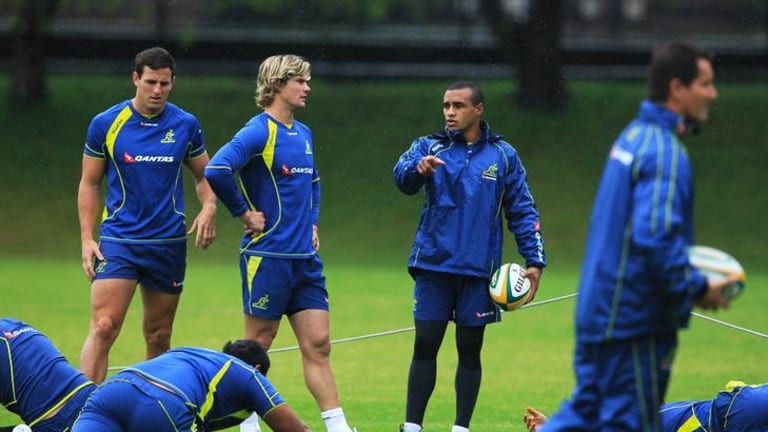 Wallabies coaching co-ordinator Tony McGahan says they're expecting Genia and Barnes to come under far greater pressure at Etihad Stadium.
''I think Wales' first reaction will be to really shut down our key playmakers at nine and 10,'' McGahan said.
''I think you'll see a renewed focus in that area. You'll see a real blitz defence and they'll be coming off their line exceptionally hard around the ruck and try to control our nine and 10 and make sure their time on the ball and their ability to get themselves in the game will be shortened.
''Contact will be made in that area, there's no doubt about that.''
But McGahan, who coached Irish club Munster to win the Celtic League title in 2010-11 before joining the Australian camp this year, believed Genia was up for the added attention.
He said at Munster he used to cut up video clips of Genia to show up-and-coming No.9s how they should aspire to play.
''Working with him in this environment over the last few weeks you can certainly see what a competitor he is and what high standards he has on himself and brings out in the team,'' he said.
''We were greatly enhanced by his role there on Saturday night.''
McGahan said the Welsh enjoyed the ''fractured part of the game'', so the Wallabies were expecting their opponents to rely more heavily on their kicking after a change in tactics made an impact in the second half of last Saturday's Test.
''That's where they'll come at us - the contact area defensively and a strong kicking game will be their second platform.''
He said Wales, who had a 25-15 win over the Brumbies in their mid-week match on Tuesday night in Canberra, would have expected to do better against the Australians.
''I think their commentary suggested that. Looking to the game on Saturday I think you'll see great improvements,'' he said. AAP
Morning & Afternoon Newsletter
Delivered Mon–Fri.