Waratahs have classier individuals but Lions pressure game is intense
The Waratahs greatest enemy in this finals series has never been opponent A or B but series of hurdles they set themselves after losing to the Brumbies.
Even the high of beating the Highlanders in Sydney could barely be enjoyed: there was a flight to catch in the morning to South Africa.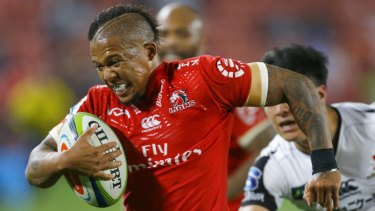 If they beat the Lions it will be back on a plane to either Sydney or Christchurch. Stats experts put the points handicap of such a journey at about -20.
And so when you come to the Lions we can talk about individual threats but really it is the overall challenge the Waratahs must overcome.
It is the travel. It is the altitude in Johannesburg. And it is the collective, relentless pressure game that the Lions bring.
They are into you at the scrum. They are into you post tackle. They are up in your grill at lineout time.
After 30 minutes you could think, as the Jaguares probably did last week, 'We are going all right here, they haven't really constructed anything'. Yet the scoreboard says you are 20 points down. That's what the Lions bring.
Indeed, Waratahs fans probably looked at the Lions' 40-23 scoreline win against the Jaguares last weekend and assumed Lions No. 10 Elton Jantjies had one of his 'good' days.
Nothing could be further from the truth. His passing was ordinary and there was no great fluency in the back line. He didn't challenge the line much with a running game, although he did set up an early try with a crossfield kick under penalty advantage.
No, this win was built on the sweat of others.
Three scoring playes - two tries and a penalty - came on the back of nothing else but hugely committed chases from new Springboks winger Aphiwe Dyantyi. He is this year's Courtnall Skosan except bigger, more physical, and possibly even faster.
The scrum simply monstered the Argentines. Here, the pressure will come on Tom Robertson on the loose-head side because Ruan Dreyer at No.3, in partnership with hooker Malcolm Marx, is coming in at angles that Australian fans will celebrate when Taniela Tupou is finding them but query when opponents have success.
At the lineout, Franco Mostert is challenging for almost every ball.
And at the tackle, Marx is getting over the ball, openside Kwagga Smith is getting over the ball and influential captain Warren Whiteley is loitering with intent.
There is no let up off the bench. Blonde haired ball of energy Marnus Schoeman is probably too small for the modern midfield but has somehow made a home at flanker.
He's remarkable. He makes Phil Waugh look passive with the way he attacks the line with ball in hand.
So is there reason for Waratahs optimism? Yes.
Take a look through the Lions' results this year and there has been less consistency that in 2016 and 2017. Jantjies has been up and mostly down this year. They have lost Jaco Kriel and the bruising Ruan Ackermann.
For all their drive and clear sense of unfinished business they lack an Israel Folau.
But the Waratahs will have to be tidy. More than that, they will have to be immaculate. Their exit tactics will have to be sharp, the ball carrying purposeful, the passing crisp and the kicks lengthy.
The Lions will go high and deep from restarts and send Dyantyi after them and try to force an attacking lineout to get their drives going.
In all those parts of the game, which fans don't spend much time on but coaches lose hair over, the Waratahs need to be excellent.
Perhaps the Lions will also produce some magic. They certainly back themselves to use the ball.
But their game is not built on inspiration as much as perspiration. It's the pressure they bring that makes them so hard to beat in Johannesburg.
Paul Cully is a rugby columnist for The Sydney Morning Herald.