We'll bounce back, promises Sharpe
Wallabies captain Nathan Sharpe says Australia have what it takes to rise to the occasion against England at Twickenham this weekend. Having been involved in more than his fair share of capitulations and rousing comebacks over his career, Sharpe said the adjustment between southern and northern hemisphere rugby had caught out the Wallabies before.
"I think always when we come on these northern hemisphere tours we've played in that Rugby Championship or Tri Nations and the style of rugby has quite a contrast to it, so we often haven't performed well in the first game," he said. "[Against France] we got touched up so it's not great start, but we'll bounce back from that."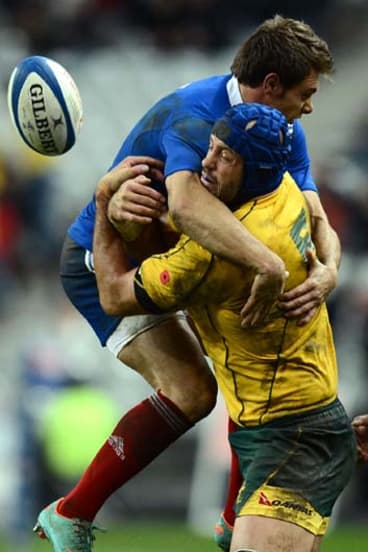 In the lead up to Australia's confidence-boosting draw with the All Blacks in Brisbane last month, Sharpe said he wanted the Wallabies to rely on more than emotion to get them over the line.
"We like a challenge. It probably fits the Australian psyche a little bit. When the back's to the wall, the guys love to show their character. That's a strength, but it's also a weakness and something we've got to get away from in Australian rugby," he said.
The 18-18 draw, described by prop Sekope Kepu last week as a game that "defined what we are", looked for a time like the beginnings of that legacy but the result in Paris put paid to any cautious optimism.
Nevertheless, Sharpe said there were promising signs, including consistently good preparation.
"That's [about] maturity, that's [about] experience coming through," he said. "Our preparation [last] week was actually really, really good. The opportunity there was for us to take that game towards the end of the first half and we didn't take that. Consequently France got the roll and that's the way the game finished."
Once again, Australia will rely on emotion and their devotion to coach Robbie Deans, who cannot afford a second consecutive loss, to get them over the line against England.
"The situation is what it is and we've got to work our way out of it, there's only one way to do that and that's together," Sharpe said. "The guys are hurting from that. We need to bounce back as soon as we can and we know what's ahead of us [this] weekend."Replacement lock Rob Simmons has been cited for a lifting tackle on French breakaway Yannick Nyanga during Saturday's match.
Simmons tackled Nyanga as he went for a high ball in the 66th minute, lifting him in the air and appearing to fall with Nyanga, who landed on his back. A hearing time before the citing commissioner has not yet been set.

Georgina Robinson is a Sports Reporter for The Sydney Morning Herald
Morning & Afternoon Newsletter
Delivered Mon–Fri.